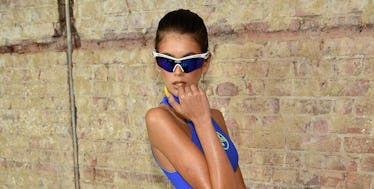 Cindy Crawford's Daughter Is Only 16 And She's Already Tearing Up Fashion Week
Getty/Bryan Bedder
New York Fashion Week has the power to catapult a new model to legit stardom. But when that model already comes with a celebrity family, that fame can backfire and result in people crying "undeserving" and "nepotism." Back in 2014, no one knew if Kendall Jenner would be taken seriously by the fashion world given her family's *humble* reality show beginnings. Then, she stomped down Marc Jacobs' fall 2014 runway in a sheer top, imparting her with the gravitas she needed to own every major runway, and the rest is history. On Sept. 9, another upcoming supermodel with fame in her blood walked her first major show, and the internet has heard her. People are absolutely obsessing over Cindy Crawford's daughter, Kaia Gerber.
Not only did the 16 year old walk in what will arguably be the biggest show and spectacle of fashion week, she popped the cork on the champagne. Stepping out of an oversized black van emblazoned with the word #Wangfest, Gerber opened the fall 2018 Alexander Wang show with a strut that, I assume, had Jenner shaking in her Wang feather-trimmed party hat. Gerber's swagger-packed sway kinda resembles the way you walk by an ex when you run into them with their new partner. Without a doubt, spectators online and in the Brooklyn neighborhood of Bushwick (where the show took place outdoors) were absolutely mesmerized by her moves.
Hot damn, Kaia. I'd ask where she learned to sashay like that, but obviously she inherited both that and her angelic face from mom Cindy, the OG supermodel and queen of the '80s. It didn't take long for Twitter to erupt in near-unanimous approval, calling out comparisons to the rat pack of models that currently dominate: Jenner, and sisters Gigi and Bella Hadid. "Kaia Gerber's walk just ended Kendall, Bella and Gigi's career," tweeted one user.
"Kendall Jenner is shaking," added another.
One user felt so passionate about the matter, she perhaps took it one step too far:
Whoa there, @idthrowroses.
But not every user posted a snarky comparison; some simply expressed admiration and their intentions to channel Gerber's fierce grace in their own lives.
As this point, we already know Geber's got the pedigree, prance, and popularity to be a phenom. But how well does she smize? I'm excited to inform you that Gerber gives absurdly good face, as well. While she only recently turned 16, which is the minimum age to walk in runway shows, last year the teen nabbed a huge beauty campaign as the face of Marc Jacobs beauty. Her face is almost a dead-ringer for Crawford's, with full, arched brows, big brown doe eyes, and cheekbones for days. She sported fiery orange-red hair for those Marc Jacobs advertisements, but in actuality it was just a wig. Kaia's hair appears to still be its natural color, full and thick, 'cause she got it from her mama.
For #Wangfest, famed hairstylist Guido Palau styled her long brunette hair into a piecey, wet look that still managed to come off completely natural and polished at the same time. "When considering natural hair, people tend to assume that the end result will be messy," said Palau in a press release. Palau achieved the cool-girl texture in four steps, by first washing and applying a heat protectant spray, then using the ghd Air Hairdryer on a low setting with a diffuser. Finally, he created a center part with his fingers and effortless-looking bends with the ghd Classic Curl Iron.
ghd Air Hairdryer, $119, Amazon; ghd Classic Curl Iron, $140, Amazon 
Gerber's makeup was bestowed by backstage icon Diane Kendal using NARS cosmetics. While altogether the epitome of no-makeup-makeup, Kendal actually used a forthcoming product from the brand: Orgasm Illuminating Loose Powder, a glow-giving variety of the cult-classic Orgasm blush, to be released this spring.
Two legends transforming you with unreleased versions of classic beauty products for your big runway debut? I can't think of a better debut for the collective new muse of fashion, Twitter, and anyone who prefers to stomp out pre-judgment in silver heels.