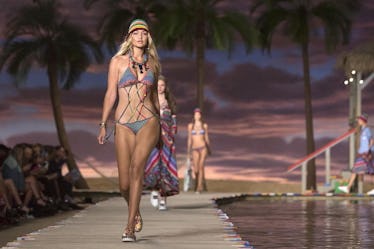 Fashion Week Just Banned Models Under This Size And Twitter Is In An Uproar
Model Gigi Hadid presents a creation from the Tommy Hilfiger Spring/Summer 2016 collection during New York Fashion Week in New York, September 14, 2015. REUTERS/Andrew Kelly - RTS13DP
With another New York Fashion Week upon us, the wise words of Carrie Bradshaw are called to memory: "Every year the women of New York leave the past behind and look forward for the future. This is known as Fashion Week." That theme of progression, of new clothing as a signal of forging ahead, is more evident than ever in the style sphere. Today, Sept. 6, juggernaut fashion companies LVMH and Kering banned runway models under size 2.
If those names don't ring a bell, the companies own a bunch of little brands like Christian Dior, Gucci, Marc Jacobs, Balenciaga, and Saint Laurent. So every major runway from New York to Milan will be affected by this epic rule change, which also forbids casting models under the age of 16 and male models under a size 34. "Respecting the dignity of all women has always been both a personal commitment for me and a priority for Kering," said François-Henri Pinault, CEO of Kering (and husband to none other than Salma Hayek Pinault), in a statement. "We have the responsibility of building new standards for fashion and we hope to be followed by other players in our sector," echoed the LVMH board of directors.
The fact that these major fashion players are accepting their role in building newer, healthier, and more inclusive standards for the industry is significant. While Ashley Graham graces the cover of Sports Illustrated and Insta-sensations like Iskra Lawrence lead major campaigns, Fashion Week runways have lagged embarrassingly behind in embracing diversity of all kinds, including body. But is the banning of a particular size the right move? When it comes to the highly personal topic of body image, Twitter users are passionately divided.
Some are applauding the measure, citing body positivity, health, and well-being.
Others are interpreting the ban as a form of body shaming thin people, and turning the attention onto plus size models, who they believe are promoting another unhealthy size.
How will the ban affect fan-favorite models like Gigi Hadid and Kendall Jenner, who have contracts with the brands? They, and models like them, will strut down runways liberated from any pressure to be a size zero. To put the ban in perspective, remember that runway models are largely white and skew towards thin women with athletic builds—homogenous AF. While there is no true "average American woman," statistics put the median clothing size somewhere between a size 14 to a size 18. Perhaps a better edict would require representation of diverse body types, instead of outlawing a single one. Regardless, I'm hoping this move begets future efforts to show off a range of beauty, from size to ethnicity to gender, on the catwalk. And to present a true authority on the matter, may I present this old tweet from The Weeknd?
He's got the right idea.