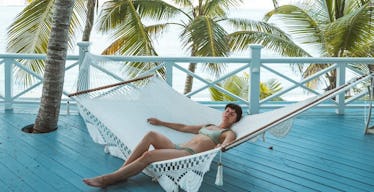 This Woman Gets Paid To Stay In Epic Worldwide Vacation Homes And We Need Her Job
Courtesy of Sorelle Amore
A typical 9-to-5 desk job is so passé when the entire globe can act as your office. There's no telling where you'll end up week after week, and that's the beauty of it all. For videographer Sorelle Amore, that fantasy is a reality. She's showing us how to get paid to stay in vacation homes all while documenting her journey on social media, and her extremely fortunate position is making us consider a career change.
The world traveler has visited more than 40 countries has served as a tour guide, a travel photographer, and a Iceland and Greenland tourism promoter, yet her current role takes the cake. After winning  ThirdHome's "Best Job on the planet" contest, Amore was awarded $10,000 per month to head to 12 different locations to photograph and record her stay online. Her new job has taken her to Nashville, Tennessee, Punta Cana, Dominican Republic, and London, England, among others.
Basically, this is every millennial's travel bucket list come to life, and we're dying for Amore to spill her secrets on how to score an opportunity like this. Perhaps one factor that helped Amore seal the deal was her positive attitude and love for exploration.
"This trip has reinforced to me that one of the best things in life is travel," Amore tells Elite Daily. "Not only does it fulfill a desire so many of us have to explore every corner of the Earth, but it also teaches you about the world. It makes you realize that the world is a much more beautiful, safe, and kind place than we are lead to believe."
The ThirdHome team selected the 12 locations Amore's to explore, but after that, whatever happens is in her hands.
"Most of the time I'm in one spot for five to seven days. In that time I'm required to experience the best of what is on offer in the area — from spas, local nightlife, national parks, diving, of course restaurants and many more activities," she tells Elite Daily. "On top of that I have to photograph and film the house, then create videos and photos from all the experiences and also write about the travels."
Over the next three months, Amore will share tidbits from her journeys, and you'll definitely want to follow along for some swoon-worthy inspo. Check her out on Twitter and Instagram @SorelleAmore and get ready to start planning a vacation of your own. You can also check in on Third Home — the luxury property and travel club that sponsors Amore — to see the happenings.
For those looking for an adventure, Amore shares the secrets to making it in the travel industry.
"Within an industry that is so saturated you need to either find a unique angle to present your information (for me it's winning this job) or showcase your personality (great way to do that is YouTube), or be SO good at your craft that they can't miss you," she tells us. "You also have to take risks, eventually leading up to the bigger risk of all. Save up your dollars and once you feel your skills are good enough, with your camera in hand and your hunger for success — go."
Make sure your passport is ready.