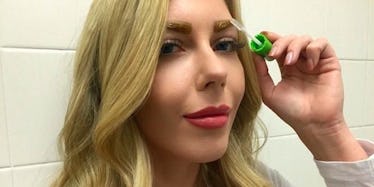 Here's Your Step-By-Step Glitter Brow Guide For The Holiday Season (Photos)
Kylah Benes-Trapp
If you've been keeping up the with latest beauty fads, you may have noticed a sudden spike in the popularity of sparkles.
Yep, glitter is definitely having a moment and all sorts of shimmery styles are taking center stage just in time for the holidays.
Glitter just so happens to be my favorite color, so I'm obviously a big advocate of anything that accentuates your shine.
Remember when we introduced you to the glitter beard in all of its glimmering glory?
Well, like most of my fellow ladies, I caught a severe case of FOMO when I couldn't get in on this festive trend due to my lack of hipster facial hair.
So I set out to find a way for women to get in on the sparkle movement with another tinsel-topped trend: Glitter Brows.
That's right, glitter eyebrows are a real thing and these fabulous, festive brows are straight fire.
Since I'm always looking for any excuse to cover myself in sparkles, I decided to master the art of achieving some seriously lit eyebrows and broke down the whole dazzling brow process so you can see how it's done.
Take a look at the pictures below for a step-by-step glitter brow tutorial.
To achieve a gorgeous set of glitter brows, you'll need brushes, clear eyebrow gel, glitter and a similar shade metallic eyeshadow pencil.
Step 1: Go about your normal eyebrow beauty routine, shading in your brows with whatever pencil you typically use.
Step 2: Trace over the perimeter of your brows with the metallic eyeshadow pencil, then shade in the middle. This will create a base for your glitter brows and make the color really pop!
Step 3: After that's done, apply a thick coating of eyebrow gel to one of your eyebrows.
Step 4: Next, dip your brush in glitter and apply a generous amount over the wet eyebrow gel. If you're looking for a subtle sparkle, one coat of glitter should do the trick. If you're looking to really make your strands shine, you should repeat this step two or three times.
Step 5: Repeat Step 3 and Step 4 on the other eyebrow and you're all set.
You now have a perfect pair of tinsel-topped brows that look festive AF.
Seriously, just look at the difference a little glitter makes.