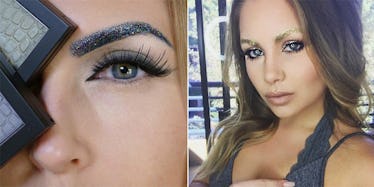 This Shimmery New Eyebrow Trend Is Out Of Control, Glitterally (Photos)
Last week we introduced you to the wonderful world of glitter beards and gave you the low down how to achieve this trendy, twinkling look.
If you happen to be a fan of that festive facial hair, you might want to brace yourself.
Apparently, beards aren't the only thing getting a badass, sparkling makeover just in time for the holidays.
It turns out some people are also giving their eyebrows the glitter treatment.
That's right, glitter brows are actually a thing, and these beaming eyebrows look fabulous AF.
Whether you decide to add a subtle shimmer to your arches, make your brows stand out with some colorful sparkles or go all out and bedazzle your brows in gemstones, these gorgeous glitter brows are the perfect way to step up your seasonal style game.
Take a look at the pictures below to see this tinsel-topped trend.
If you're looking to add some sparkle to your beauty routine...
...look no further.
We just found a new way to make your brows shine. Glitterally.
That's right, glitter brows are now a thing...
...and these flashy eyebrows are fabulous AF.
Lots of ladies are coloring their brows with all sorts of shimmering shades...
...and some guys are even getting in on the glitter action.
There's no wrong way to rock this twinkling trend.
You can spruce up your brows with a subtle sheen...
...go for some gilded arches...
...perk up your peepers with some pink sparkles...
...or sprinkle your strands in silver.
You can outshine the eyebrow competitions with some cosmic colors...
...ball out with some bold, bedazzled brows...
...top your arches in blue tinsel...
...play up your brows with a pageantry of purple...
...or add a glimmer of gold to your glam style.
The glitter brow possibilities are pretty much endless...
...so you're bound to find a sparkly shade that suits you.