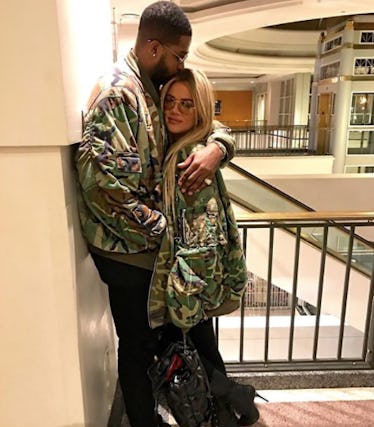 The Boyfriends Are Missing From The Kardashian Christmas Card & TBH, I'm Worried
Instagram/khloekardashian
Who run the world? Girls. Obviously, c'mon, like that's something we didn't know already? And I am totally here for the girl power, but frankly, there's something going on with the Kardashian women that has me just a little bit nervous. Our girl Kim Kardashian has been blessing our Twitter feeds with snippets of the family's holiday card, and fans are loving it (as they should). But one thing that's missing? The men — or, if I'm being more specific — the boyfriends. On day 13 of the Kardashian Christmas card release, we were finally graced with Khloé's presence (which felt like an eternity, TBH), but her boy-toy was nowhere to be found. It got fans thinking, "Will Tristan Thompson be in the Kardashian Christmas card?" And while we're on the subject, what about Younes Bendjima, Kourtney's very young and good-looking boyfriend?
Could it be that the Kardashians are totally over featuring their significant others on their holiday cards? Or is there a bigger reason why the Kardashian boyfriends are seemingly MIA for the holiday photo shoot?
For the Kardashian family, a holiday-inspired photo session is nothing new. We live in a really, really great world where we can take a look back at the Kardashian's Christmas photos from 30 years ago, and I can promise you that their portraits each year do not disappoint, like this one from 2006 showing the clan nailing that ~beachy~ vibe:
Or this one, that shows the evolution of their style:
And would you look at that, Scott Disick and Lamar Odom made their debuts on that card. Interesting.
So let's fast-forward to this year, where we have been #blessed with 18 days of Kardashian photos from Kim so far. We've seen some truly adorable photo snippets, having it all start with a teeny-tiny photo of Saint West surrounded by presents that made everybody squeal with delight:
Look at that tiny lil' face! Look at how big all those presents look around him! It's perfection.
From there, things got even better.
On day four, we saw Kim with North West, aka the most adorable girl in the entire world:
And on day 13, we saw a not-pregnant Khloé, which fans either thought proved she wasn't pregnant after all, or that Khloé is pregnant, and an updated photo of her with a baby belly will debut on Day 25:
Is she pregnant? Is she not? Honestly, the world may never know.
Then on day 14, we were given Mason, Reign, and Kourtney:
And on day 16, we got the entire Kardashian-West family:
How cute is this family portrait?!
But, hold up. Here we have Kanye in the holiday photo. So if Kim's husband is involved, then where is Tristan Thompson, Khloé's boyfriend and reported baby daddy? Because I'm *pretty* sure that day 13 came and went with no signs of Thompson on that photo with Khloé.
And, even though we've yet to see Rob Kardashian on the holiday card, there's definitely still time for him to appear. Plus, we know that this year's photo isn't some all-girls club because Kanye is clearly on the holiday card, as mentioned above.
So perhaps this year, the Kardashians have made their holiday card something that only people who are married into the family can participate in — which would make sense as to why Kanye is featured, but Tristan Thompson, Younes Bendjima, and even Scott Disick are not.
Or maybe we're just being impatient. Maybe these next few days will give us all of our answers: We'll see a smiling Tristan Thompson. We'll see Younes Bendjima posing with a Santa hat on his head. We'll see Scott Disick rocking an ugly sweater.
There's only one way to find out, and that's to keep coming back to Kim Kardashian's Twitter to see the final holiday photos. But let's be serious, you'd be doing that daily anyway, right?