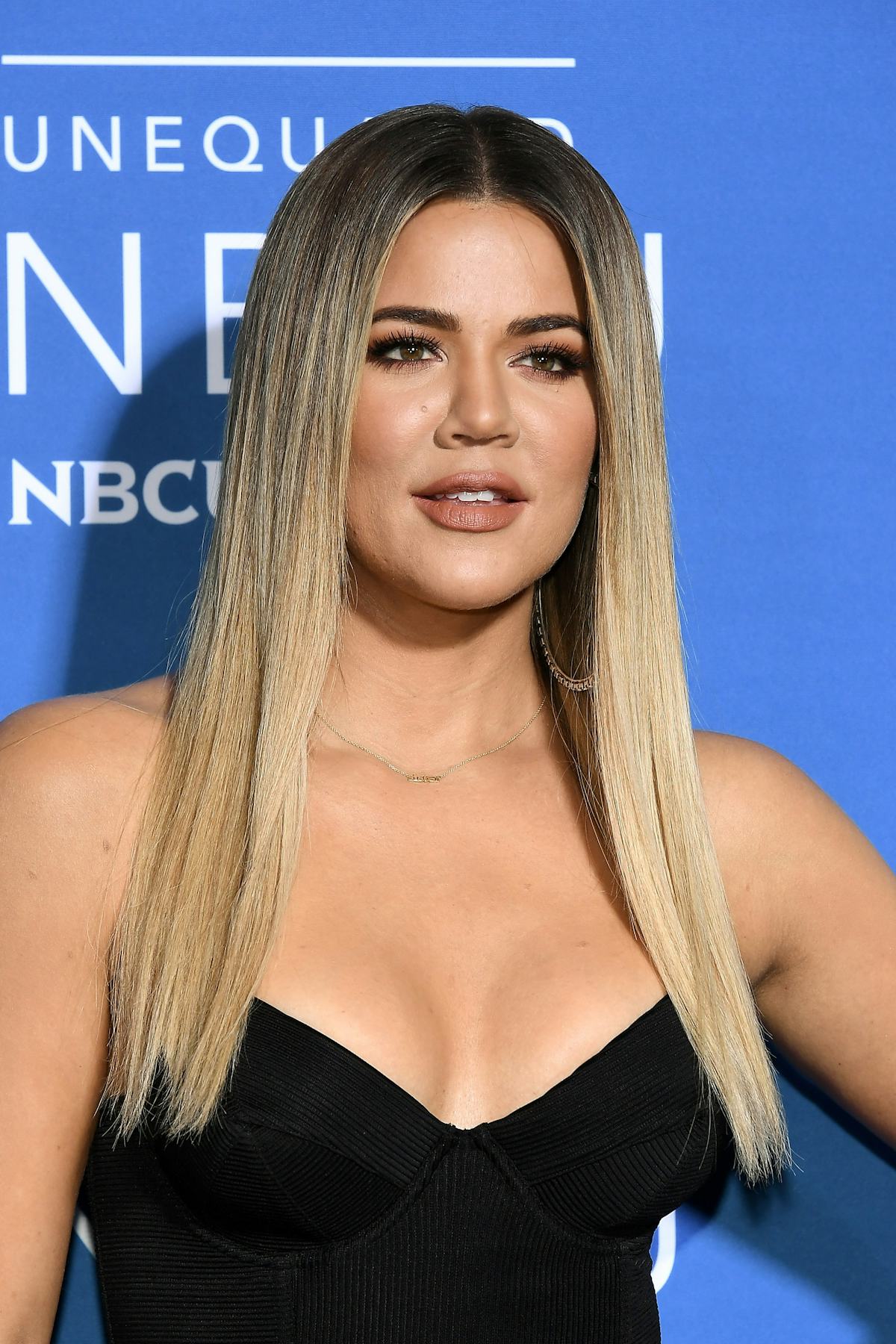 Khloé Kardashian's Instagram Comment To Tristan Thompson May Be A Clue She's Pregnant
Dia Dipasupil/Getty Images Entertainment/Getty Images
If you even mildly follow what's going on in the entertainment world, you may be aware of the report that Khloé Kardashian is pregnant with her first child. And if you're obsessed with the entertainment world, like I am, you take every single thing Khloé Kardashian posts on social media and investigate it to no end, searching for confirmation that she is indeed having a baby with her NBA star boyfriend, Tristan Thompson. Well, everyone, there's a new clue and I'm here to break it down for you. Khloé Kardashian's Instagram comment to Tristan Thompson could be another hint she's got a bun in the oven.
UPDATE: On Dec. 20, Khloé Kardashian confirmed that she is expecting a baby with Tristan Thompson in an Instagram post.
EARLIER: Let me take you to the scene of the crime... uh, I mean CLUE. On Thursday, Dec. 8, Kardashian posted a seemingly innocent (and downright gorgeous) photo of herself showing off her new sweatsuit set from Good American. The caption read:
I LOVE any cute sweat suit set! But Im obsessing over this @goodamerican fishnet set!! Easy but always cute though! 😜#GoodSquad#GoodSweats
The clue comes in the comments of the photo. Kardashian's boyfriend of one year, Tristan Thompson, gave his woman some social media love. He dropped her a whole bunch of heart-eye emoji in the comments, along with "DAMN" and a face-palm emoji. I don't blame him for doing this because I would do the same thing, and I don't even know Kardashian personally.
Totally not a big deal, right? Just a little social media PDA. Well, Kardashian commented back, writing:
@realtristan13 hey daddy
DADDY? DADDY! AHHHHHHH!
Fans were quick to notice this. One fan commented on the photo, writing:
Did you just say it? Khloe...Is it official that you are having a baby?🤗Daddy Tristan...So cute🐣
Another said:
@khloekardashian is that some sort of confirmation?! I'd be so happy for you 😊
While this could be a huge clue Kardashian is expecting, it's also very common for Kardashian to call Thompson "daddy." On Halloween 2017, the pair dressed up as Khal Drogo and Khaleesi from Game of Thrones for a party, and she captioned a Snapchat video, "that's daddy."
The "dad" thing goes even further back to June of 2017, before the pregnancy rumors were even a thing. Kardashian shared a few polaroid photos of her and Thompson from June 25, and the caption on one of the photos was "DAD + MOM."
So, take the clue with a grain of salt.
Though nothing has officially been confirmed by Kardashian or Thompson, there have been tons of clues over the past two months that point to the 33-year-old being pregnant. For one, nobody in the Kardashian-Jenner clan has denied it, and she seems to be constantly covering her stomach with oversize bags or big sweatshirts or jackets.
Kardashian and Thompson have also talked at-length about having kids together. During the Season 13 finale of Keeping Up With The Kardashians, Kardashian says of Thompson,
He wants to have, like, five or six kids with me, and that's lovely. We could start at one and then grow from there. But now, knowing I'm not on birth control, it's really scary. It's like a really big step.
Well, regardless of if she's pregnant right now or not, Kardashian will be an amazing mom. Seeing her with her nieces and nephews like North, Saint, Mason, Penelope, Reign, and Dream, it's so obvious her future children will benefit from having her as their mom. Kardashian once said,
I'm a really fun aunt, so I hope I'm going to be a fun mom! I like to have fun and be silly and not take myself too seriously with the kids, so I hope that will translate when I actually have my own.
So, tell us, Khloé, how soon will you have your own?!