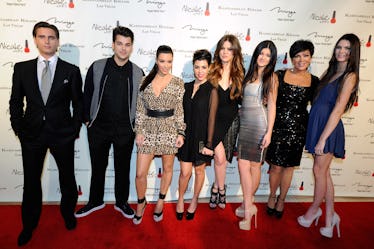 A Family Member Is Missing From The Kardashian Christmas Card & Fans Want Answers
Ethan Miller/Getty Images Entertainment/Getty Images
Merry Christmas to everyone in the Kardashian/Jenner family, except maybe Scott Disick. This year, the royal family has been teasing fans with an epic 24 days of Christmas Instagram series, slowly revealing one family member after the other. So far, we've seen Disick's whole family including his three children and ex Kourtney Kardashian appear in the cards, but no sign of the father of three. Will Scott Disick be in the Kardashian Christmas Card? Only Kris Jenner has the answer, probably.
Each year, the Kardashians take one epic photo around the holidays. This year, with the new installment of their Instagram series, fans suspect there is going to be a big photo reveal at the end, which will likely include every family member. Fans are wondering if Disick will make an appearance, particularly after the crazy year he and Kourtney just had.
One could argue it all began during the Cannes Festival in the summer of 2017, but let's be real, these two have always been on the rocks. This particular year, Kourtney embarked on a new relationship with a 24-year-old model named Younes Bendjima. This seemingly tipped Disick all the way over the edge.
Disick went on an out-and-out downward spiral of drinking, partying, and getting photographed with loads of young women. We've also seen on Keeping Up With The Kardashians how he's been toward Kourtney since dating Bendjima. In one scene, Kourtney holds the phone away from her ear during a workout with Khloé, and we can hear Disick shouting obscenities. Khloé awkwardly says, "He is screaming at the top of his lungs."
Flash forward, and we now know that Disick is "in love" with 19-year-old model Sofia Richie.
It's a weird world.
We also know that Kourtney has been doing her best to set boundaries with Disick, and has had trouble navigating which family events to invite him to and which ones to exclude him from. For example, in KUWTK, Disick gets upset because he was left out of Khloé Kardashian's surprise birthday party.
He sarcastically says to Kourtney,
I highly doubt that Khloé was like, 'The last person I would want at my surprise would be Scott.' It's cool, honestly, I called my sister and I hung out with her the whole night. And then, actually, I called my mom after and was like 'Hey Mom, do YOU want to come over? Because, I'm feeling a little down and lonely, because the family that claims I'm still blood, even though we're not together, still doesn't invite me to a surprise party,' but I really felt good about it.
I don't know, Scott. It's hard to tell if you're going to be in or out of this one.
So far in the Christmas series, we've caught glimpses of Kim and Kanye, Kris Jenner, Kendall Jenner, Kourtney and her three kids, a sneak peek of Khloé, baby Dream, and grandma MJ. That just leaves Kylie, Caitlyn, Rob, and maybe Scott.
Of course, what we're all REALLY dying for is a glimpse of Kylie and her reported baby bump. There's an epic theory going around that the youngest sister will reveal her pregnancy as part of the grand finale. However, one source told People magazine she is going to wait until she delivers to confirm her pregnancy at all. The insider said,
Kylie isn't going to publicly address her pregnancy until she gives birth. She's not doing any public appearances and just wanted to take six months off.
As usual, the Kardashians and their Christmas photos are keeping us on our toes and glued to our Instagram feeds.
Fingers crossed for you, Scott.
Check out the entire Gen Why series and other videos on Facebook and the Bustle app across Apple TV, Roku, and Amazon Fire TV.