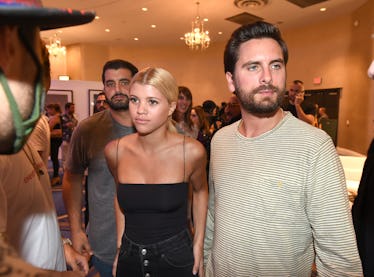 Here's Why You Probably Won't Ever See Sofia Richie On 'KUWTK' With Scott Disick
Romain Maurice/Getty Images Entertainment/Getty Images
While we've all been busy waiting for Khloé and Kylie to drop the news of their respective reported pregnancies on Keeping Up, there's another story that's kind of gotten back-burnered. Scott Disick's new relationship has been totally MIA. Kourtney's baby daddy has had a GF since last May and they've basically been inseparable — Cannes! Venice! Art Basel! — but we've yet to catch even a glimpse of her on the show. So enquiring minds want to know: Will Sofia Richie be on KUWTK?
And yes, enquiring minds = me.
But sadly, while I totally ship this couple and would love to see their May through December romance play out on TV, the answer is probably no. Because according to recent reports from production sources on the show, there are "zero plans" in the works for Sofia to appear on Keeping Up, even though Scott has managed to remain somewhat of a major player despite his split from the oldest Kardashian sib.
So what's the deal? Is Kourt jealous? Did Kris go all Mama Bear and blackball the 19-year-old model? Again, I'm gonna have to say that's a negative. The reason behind the ban is reportedly a good one, and it stems from the fact that Sofia hasn't really gotten the chance to know Scott's kids yet, and since they don't want to push it, the teen model has decided to just avoid taping altogether, because that's usually when the dad of three is with kiddos Mason, Penelope, and Reign.
Mad respect for this decision!
And while the news definitely comes as a bummer, there may just be a silver lining here, after all — rumor has it that Disick and Richie are busy filming a pilot for their own reality spinoff! And get this: The couple was reportedly already spotted being followed around by a camera crew during their PDA-filled trip to Miami last week.
"Right now, he's making the pilot episodes ... he thinks this could be his big break, show everyone he's bankable so he's under a lot of pressure to get it right," a source told The Sun. "He pitched a show that would capture his relationship dramas with Sofia — and their very glitzy life! ... Everyone is fascinated by the new relationship with Sofia, who she is, the age gap, and how it's all working out with Kourt, the kids, and of course everything to do with her — she's got a very famous sister and father."
I don't know about you guys, but I would totally watch that show! I mean, what's not to love about a good 15-year age difference, a mutual love of partying, and a possible guest appearance by Sofia's famous father, Lionel, who supposedly disapproves of Scott big time? That definitely sounds like a hit show to me!
And don't even get me started on how much I'd love to see perennial scene-stealer Nicole Richie back on my TV once a week!
Of course, there's still one question I am going to need an answer to ASAP and it's this: If the whole Scott/Sofia spinoff thing is really a go, will Kris Jenner be the one who steps in to produce it?
Because on the one hand, that would be amazing and it certainly seems like a project the Momager would would take on. But on the other, OMG, can you even imagine how you'd feel if your mom started spending all her time following around your ex and his gorgeous new teen girlfriend?
Now that sounds like a super-bankable plot line. Maybe it's time Kris gets her own spinoff — who's with me?