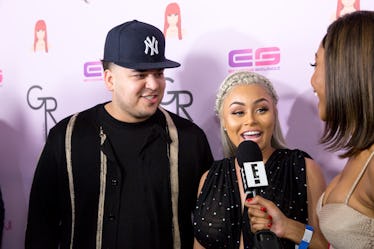 This New Photo Shows Kylie Isn't The Only One Missing From The Kardashian Christmas Card
Greg Doherty/Getty Images Entertainment/Getty Images
I am not ashamed to admit that I am very much here for a Kardashian family Christmas card. The famous (and photogenic) family is known for their extravagant holiday greeting cards, but they're switching it up a bit this year. Kim Kardashian has been slowly revealing the photos that will make up the 2017 card, and it has fans wondering, "Will Rob be in the Kardashian Christmas Card?"
That answer so far is "maybe." Why so vague? Well, Rob was at the Christmas card photo shoot that took place at Milk Studios in Los Angeles on Nov. 7, according to E! News, so there's a chance he might appear, but the Kardashians are going to keep you guessing. To keep you on your toes as only they can do, Kim has been posting snippets of the card on her Instagram account every day since Dec. 1 (a series which she's aptly dubbed "25 Days of Christmas"), so there is no photo of the Kardashian Christmas card in its entirety just yet to confirm whether or not Rob will make an appearance.
There is a big clue that could help solve that mystery, though, and that clue is Dream Kardashian, Rob Kardashian's daughter with Blac Chyna. Sunday, Dec. 17 marked day 17 of 25, and the photo featured Dream alongside her grandma, Kris Jenner; her allegedly expectant aunt, Khloé Kardashian; and her great-grandma and Kris Jenner's mom, Mary Jo Campbell. The whole family is clad in white and denim, and Dream is rocking an adorable top-knot. What's most noticeable, though, is who is not pictured, Rob.
Day 17 of the Kardashian's 25 Days of Christmas
While Rob has yet to make an appearance, this photo marks Dream's second showing in the 2017 Kardashian Christmas card. She was previously featured on Dec. 9 when she posed with her older cousin, Mason Disick, the oldest son of Kourtney Kardashian and Scott Disick. The cousins sported white tee-shirts and gave a nod to the holiday with a festive evergreen tree.
Mason and Dream star in Day 9.
While Rob's daughter is in the spotlight, there is another family member who has been noticeably missing from the photo. Kylie Jenner, who is rumored to be pregnant with her first child, also has yet to make an appearance in the Kardashian's 25 Days of Christmas.
The Kardashians have been taking family Christmas photos since before they took over your television screens in 2007. According to E!, there are Kardashian family photos dating back to the early '90s. Of course, there has been a lot of change since then. Kris Jenner separated from Caitlyn Jenner (then known as Bruce Jenner) in October 2013, and they finalized the divorce in March 2015, so the personnel on the Christmas card has changed over the years as well.
The annual Christmas card has evolved amidst the changes that have occurred in the family over the last few years. For example, there were no official Kardashian Christmas cards in 2014 or 2016, according to People. And the 2015 card was captioned with "All you need is love," and it only featured North West, Mason, Penelope, and Reign Disick.
North and Saint West made their 2017 card appearance, too.
Back to the mystery man at hand, though. To find a Kardashian Christmas card that featured Rob, you have to journey back to 2012. Shortly after that, Rob battled with depression and weight gain and decided to stay out of the spotlight. More recently, he has had a contentious custody battle over Dream with Blac Chyna.
As to whether or not Rob will join Dream in the 2017 Kardashian Christmas photo? You'll just have to wait and see.
Check out the entire Gen Why series and other videos on Facebook and the Bustle app across Apple TV, Roku, and Amazon Fire TV.