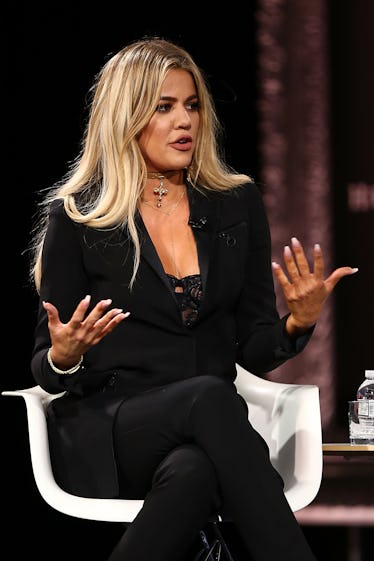 Khloé Kardashian Clapped Back At Pregnancy Shamers On Twitter, & We're Here For It
Joe Scarnici/Getty Images Entertainment/Getty Images
We haven't even had official confirmation that Khloé Kardashian is pregnant for an entire week, and apparently, people are already telling her what she should be doing as a mother-to-be. Well, KoKo is not having it. Khloé Kardashian clapped back at pregnancy shamers on Twitter on Dec. 26, and I'm just over here starting up the slow clap.
Khloé is known for her interest in fitness and her intense workout routine, so it looks like some people were curious if she would continue her high-powered exercise routines once it was known she was pregnant. The answer, evidently, is yes, but that doesn't seem to have stopped the raised eyebrows. On Dec. 26, Khloé tweeted out a message to everyone who was clutching their pearls about the possibility of exercise being bad for the baby. The message, accompanied by a face palm emoji, said,
For the ones who think they are physicians all of a sudden but MY doctor and I communicate and my workouts are cleared and highly recommended. Thanks kiddos! Don't make me stop sharing sh*t
The tweet linked to an article about prenatal workouts from Fit Pregnancy called "33 Reason To Exercise Now." So yeah, it looks like KoKo intends to keep up the sweat for those last few month before she becomes a mom.
It's a pretty common myth that exercise is bad for pregnant women. WebMD has a rundown of some of the myths that pregnant women may be told about exercise — everything from keeping your heart rate below 130, to avoiding abdominal exercises, to the notion that exercise will deprive the baby of nutrients (none of these are true, by the way). While there are definitely some things that pregnant women should avoid, the key, as Khloé notes, is to communicate with your doctor about what's best for you. But since we already know how people feel entitled to judge how women behave while pregnant, is it any surprise that apparently Khloé felt the need to defend herself for staying active?
Slow your roll, backseat gynecologists.
But the vast majority of the responses were happy and supportive of the mom-to-be.
It's all extra infuriating because of the fact Khloé was getting shamed for her pregnancy within minutes of announcing it, after some fans questioned whether her very public discussions of infertility were legitimate enough. While married to her ex-husband Lamar Odom, the couple discussed having children, and Khloé even underwent fertility treatments, which she talked about both on Keeping Up With The Kardashians and in interviews. But later, Khloé revealed that she had, in her own words, "fake tried" to get pregnant while with Odom, because she knew that the timing wasn't right.
So after she confirmed her pregnancy, some fans said Khloé faked her fertility issues.
It should go without saying that if and how Khloé goes about starting a family, — or not starting a family — is entirely her business. As is what she chooses to do with her body, whether or not she's carrying a baby in it.
Also — guys, already? Really? It has literally been less than a week since Khloé officially announced her pregnancy.
Though it had been rumored for months that the reality TV star was pregnant with her first child with basketball player boyfriend Tristan Thompson, it wasn't actually confirmed until Dec. 20, when Khloé announced her impending motherhood on Instagram. She wrote,
My greatest dream realized! We are having a baby! I had been waiting and wondering but God had a plan all along.
And of course, fans were thrilled for her then, too, tweeting out messages of love and congratulations. Khloé K clearly has the best fans.
The obvious moral here, if you ask me? Ignore the haters, KoKo. Be the momma you want to be in the world.