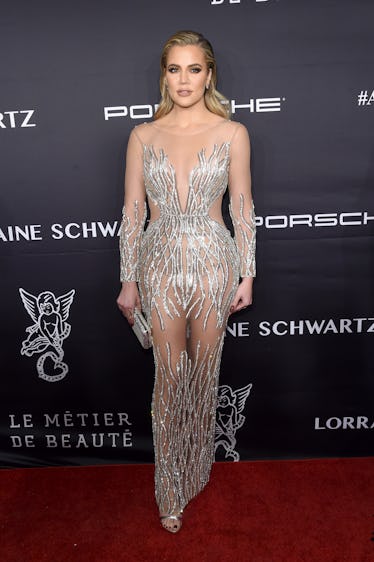 These Fans On Twitter Cannot Handle Khloé Kardashian's Pregnancy Announcement
Jamie McCarthy/Getty Images Entertainment/Getty Images
At long last, after all the rumors, Khloé Kardashian has finally confirmed that she's pregnant and, no surprise, fans are losing it. They've waited for this moment for a long time, after all, so finally having the official word has got everyone feeling pretty thrilled. Check out some of the tweets about Khloé Kardashian confirming her pregnancy.
Khloé finally revealed the pregnancy via an Instagram photo on Dec. 20 — she wrote, "My greatest dream realized! We are having a baby!" accompanied by a photo of her belly. It's been a long time coming.
First, consider the Khloé pregnancy watch that has been going on since the rumor was first reported back in September. Show of hands, who has been on pins and needles waiting for Kardashian to say anything about it? Yeah, you're not alone.
The radio silence really built the anticipation, I'll give the Kardashian-Jenner family credit for that. Of course, that lack of information had everyone rolling up their sleeves and digging into anything that could be considered a clue, like so many internet detectives.
Among the images of Kardashian that had everyone on bump watch was one of Kardashian modeling her Good American clothing line and maybe (possibly?) showing off a hint of a pregnant tummy. She shot all the bump buzz down (kinda), by explaining the top's shape, commenting: "This is a peplum shirt. It flairs out at the bottom. It's just the way the shirt is designed. In some of the next pictures coming up from the SAME shoot, I'm in a crop top. Showing a lot of skin..."
Then there was Kris Jenner's recent pajama-related post, which had everyone crunching the numbers, sure that she was confirming the pregnancy reports. Because math.
Patience definitely was wearing thin. Then, a glorious glimmer of hope that we'd finally have answers came on the eve of Thanksgiving. Us Weekly reported that, according to a source, Khloé would be making a pregnancy announcement very soon. How soon? Holy hell, was this really happening?
And now, here we are. After hearing the news that Kardashian is indeed pregnant, fans took to Twitter to send their congratulations to the star and her boyfriend, Tristan Thompson.
Kardashian and Thompson have been dating since around September of 2016, where they were seen together at LIV in Miami, Florida, for Flo Rida's birthday party. Since then, it seems to have been smooth sailing for the couple. As fans recently saw on Keeping Up With The Kardashians, Thompson threw Kardashian a surprise birthday party this past June. Kardashian was floored by the entire event and took to Twitter to give her thanks. She said, "I've never had a surprise party in my life! I was blown away! Im so lucky and blessed! Thank you so much baby!!! You treat me like a queen!"
Kardashian has also been pretty vocal about what Thompson thinks about having children with her. She explained in an interview that they "definitely talk about starting a family." She said, "He wants to have like, five or six kids with me, and that's lovely. We could start at one and we could grow from there. But now, knowing I'm not on birth control, it's really scary. It's like a really big step."
She also made another comment during the Keeping Up With The Kardashians season finale in June. She told sister Kim, "He wants to have kids now. He said, 'I want to have kids with you, [and] if you get pregnant, you could make maternity jeans for [your clothing line] Good American.'"
Thankfully, Khloé finally spilled the beans and we've got one mystery solved. Now on to whether or not Kylie Jenner is pregnant.
Check out the entire Gen Why series and other videos on Facebook and the Bustle app across Apple TV, Roku, and Amazon Fire TV.