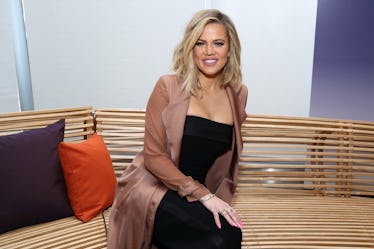 The Emotional Story Behind Khloe Kardashian's Pregnancy That Fans Can't Stop Talking About
Cindy Ord/Getty Images Entertainment/Getty Images
Congratulations to Khloé Kardashian! The reality star announced on Dec. 20 that she's pregnant with her first child with boyfriend Tristan Thompson, and her fans were thrilled on her behalf. But a lot of fans also got super emotional about the whole thing, thanks to Khloé's discussions of her struggles with fertility on Keeping Up With The Kardashians. So, what's the real story behind Khloé Kardashian's pregnancy? Honestly, the only thing there really is to answer is: It's no one's business but her own.
After Khloe announced her pregnancy, a lot of fans were instantly Feeling Things because of her previous openness about struggling with infertility. While Khloé was married to her ex-husband, Lamar Odom, the two talked about having children, even pursuing fertility treatments. The show followed their struggle to conceive, and Khloe was really open about what was going on. In 2013, she told Redbook that she was taking hormone shots to deal with fertility issues. "[My fertility] is more about my hormones being off. I was taking hormone shots to stabilize them," she said.
And for a lot of people, her experiences clearly hit home. For many people, particularly women, it's difficult to talk about fertility and/or infertility. So the fact that Khloé had (like her sister, Kim) shared her experiences so openly meant the world to fans.
So when she revealed that she was pregnant with her much longed-for baby, fans were thrilled.
The messages on social media were overwhelmingly supportive and celebratory, sharing love and support for the mom to be.
But some people thought she had done wrong.
At the end of the 13th season of KUWTK, the show followed Khloé to another visit with a fertility doctor, while she was looking at the possibility of being a surrogate for her older sister Kim. That was when Khloé revealed that she, in her own words, had "fake tried" to get pregnant while with Odom.
"I was married, but I knew the circumstances weren't the healthiest," she said. "So, I just kept pretending I was doing it."
So after the announcement, there were also a lot of people who said that she had faked her infertility issues.
Here's the thing, though — Khloé's fertility experiences and when (and how!) she chooses to start a family are no one's business but her own. She's made the choice to share certain pieces of it with her fans — and personally, I'm charmed by just how much she clearly enjoyed teasing us about it — but that doesn't give fans the right to say that her experiences or choices are invalid. So she decided that the time wasn't right for her to have a baby with her ex. That's her choice to make. It doesn't mean that her other struggles are less legitimate, or that we get to diminish her joy in her pregnancy now. Khloé is doing her own thing in her own way, because it's her life.
Even though she's chosen to share with us, it's ultimately not our business if she gets pregnant, how she gets pregnant, or who she gets pregnant with.
Though I'm awfully happy that she is sharing it with us, because oh man I love seeing how excited she is. When she announced that she was pregnant via an Instagram post on Dec. 20, showing an image of her pregnant belly, supported by her and Tristan Thompson's hands, it was obvious that she couldn't be more thrilled. In her post, she even alluded to her experiences with infertility, writing:
My greatest dream realized! We are having a baby! I had been waiting and wondering but God had a plan all along. He knew what He was doing.
Khloé is happy, Tristan is happy, and whoever that little nugget she's pregnant with turns out to be, I bet he/she/they is going to be happy too. And that's ultimately what matters. Congrats to the happy family!