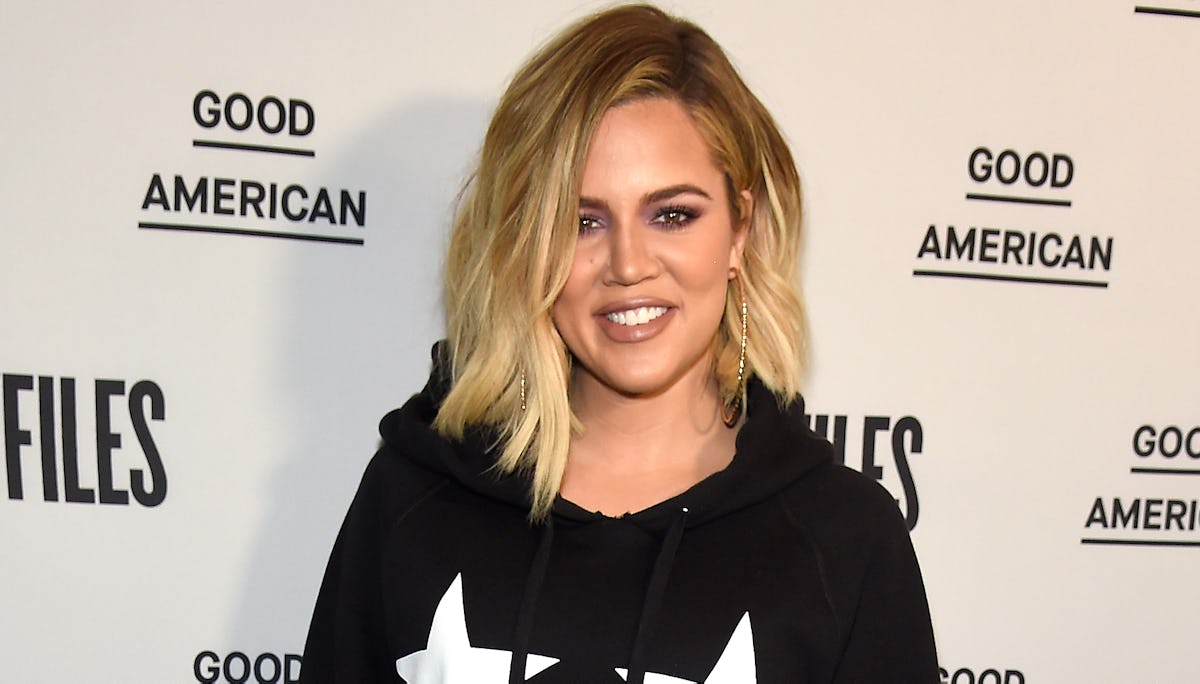 This Tiny Detail In Khloé Kardashian's Latest Instagrams Could Be A Hint She's Pregnant
Khloé Kardashian, are you pregnant or not?! On Wednesday, Nov. 29, Kardashian was seen in LAX Airport and fans were convinced she was trying to hide her reported baby belly with her purse. Now, hints Khloé Kardashian is pregnant may include her most recent Instagram posts, and they follow the same body language pattern Kardashian displayed at LAX on Nov. 29. As she was walking through the airport, Kardashian clutched her purse close to her body and positioned the purse so it was covering her torso pretty well. And she's making sure to cover her torso in her recent Instagram posts as well — a move Kylie Jenner has employed ever since rumors of her pregnancy got started. (Jenner rarely lets anyone see any part of her body below her chest on her Snapchat and Instagram nowadays.) So are the sisters using the same tactics to keep their reported pregnancies concealed? Find out next week on Keeping Up With The Kardashians!
UPDATE: On Dec. 20, Khloe Kardashian confirmed that she is expecting a baby with Tristan Thompson in an Instagram post.
EARLIER: Just kidding, we have no clue if or when Kardashian and Jenner will confirm or deny their reported baby news. It's safe to assume that if/when they do, it'll be on their show, but we won't know until that happens. And according to People, Jenner won't confirm anything until after she has given birth, so that's annoying.
But these pictures definitely make it look like Khloé Kardashian is taking a move out of Kylie Jenner's book by only posting photos of her from the waist up.
That, paired with the action of covering her torso with her arm, makes it look like she's trying to hide something.
If she were only covering her stomach in one or two photos, I wouldn't think twice about it. But the arm placement used in several photos definitely seems like an intentional pattern. Also, if you look through Kardashian's Instagram since September (when the news of her reported pregnancy first started), she hasn't been posting many full-body photos.
And there's Khloé Kardashian and Tristan Thompson's Halloween photos where they dressed up as Daenerys Targaryen and Khal Drogo:
True, Kardashian doesn't appear to be showing any kind of baby bump in these photos, but it's possible that it's just well hidden. (Or, you know, she's not pregnant at all.) There have been some other body shots from her Good American photo shoots, but those could easily be old photos. Kylie Jenner has definitely been posting old photos of herself on Instagram over the last couple of months, seemingly to throw us off the trail, but we're onto you, sistas!
Despite no one from the family confirmed or denying Kardashian and Jenner's reported pregnancy news, a source told People the two are "thrilled" to be going through this time together.
The source told the outlet back in September, "Kylie is over the moon about her pregnancy. Khloé and Kylie are both due around the same time. They are approximately four months along." They added,
Kylie loves how close-knit her family is and is thrilled to bring that to her own family. She feels more prepared than ever, especially since she will be sharing this journey with Khloé. They are looking at it like a unifying experience for them as sisters.
Some fans think Kris Jenner accidentally confirmed the baby rumors on her Instagram when she posted a picture of nine pairs of PJs, saying there was a pair for "every one" of her grandchildren.
Her post said,
Thank you so much #burtsbeesbaby @burtsbeesbaby #bbbfamjams for the most amazing collection of family jammies ever and i am obsessed with the plaid !!!!! Can't wait to cuddle up with the kids #holidayseason thank you for a collection for every one of my grandchildren.
Fans thought this was sus because Kris Jenner only has six grandchildren and only has one confirmed to be on the way (Kim and Kanye's). So, who are the extra pairs for if there's one pair for each grandchild, ehhhhh?
In the holiday special of Keeping Up With The Kardashians, Jenner said, "I used to pray that one of you guys would have a baby, and now it's like a faucet that we turned on that won't turn off."
When you say faucet, Mama Kris, are you referencing the fact that three of your daughters are all expecting babies at the same time??
Kim Kardashian also talked about babies in the same clip, and these were Khloé and Kylie's faces when she said she was grateful to have her family during the "calm before the storm" before her baby arrives via surrogate in December:
Something's up! Later in the clip, Kris Jenner continued, "The fact that I have all these grandchildren. It's been the most amazing journey to watch your kids — because it's truly the meaning of just life." Khloé added, "And a little bit of alcohol." Classic Khloé. So, what do you think? Are Khloé and Kylie actually pregnant? I give up trying to guess at this point.