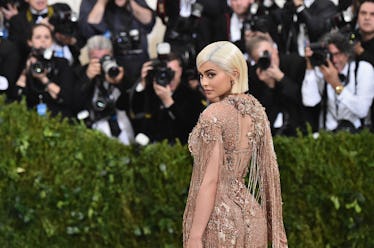 This Theory About Where Kylie Jenner Is In The Kardashian Christmas Card Makes So Much Sense
Mike Coppola/Getty Images Entertainment/Getty Images
OK, so the Kardashian family has been teasing their annual Christmas card for 24 days now, and we still haven't seen Kylie Jenner make an appearance in any of the photos. Yes, 24 days, 24 social media posts, and still no Kylie. But the latest unveiling of the Kardashian Christmas photo shoot that was posted on Dec. 24, has us wondering about Kylie. And yes, a theory has materialized. And this theory about where Kylie Jenner is in the Kardashian Christmas card seriously makes so much sense.
So let's backtrack a little. The Kardashians decided to play up their Christmas card this year by posting portions of their infamous annual Christmas photo shoot in a kind of Advent-calendar, "25 Days Of Christmas" fashion. So basically, we've been getting a different piece of the Kardashian Christmas (or Kristmas, if you will) puzzle since Dec. 1 — and still no sight of Kylie Jenner. Even Kendall Jenner has made an appearance in the Christmas Eve post.
But what fans have very clearly expressed is that they want and need Kylie to finally show up in the pictures. And the timing of the latest picture that's been posted really started to get us thinking. Kardashian matriarch Kris Jenner posted the latest image to Twitter and Instagram on Dec. 24, and we couldn't help but notice this one small, seemingly insignificant detail...
Notice anything about the photo?
OK, so you might not be digging as deep as we (and a bunch of Kardashian fans) are here. But seriously, don't you notice anything kind of strange about the picture? I mean, aside from the fact that Kendall definitely looks like she's been photoshopped in.
But besides Kendall's out-of-place-ness, do you notice anything else? Look more closely at where Kourtney, Kris, grandma M.J. (great added surprise appearance!), Penelope, North, and Khloé (kind of) are looking. They're all looking toward their right (so our left) in the picture. This small detail certainly begs the bigger question: Could they all be looking at Kylie Jenner? Is that where she'll be once the Kardashian family unveils the final product of their Christmas card? Well, we really think so, and so do some fans on Twitter:
Why does this theory make sense? I'll tell you why. Kylie Jenner has significantly slowed down her social media game ever since pregnancy rumors started swirling back in September of this year. She also hasn't made an appearance in really any of the recent episodes of KUTWTK. Not only were there Kylie pregnancy rumors, but Khloé Kardashian pregnancy rumors started flying at around the same time, making it a Kardashian baby double-whammy.
But KoKo has already officially confirmed her pregnancy in a very sweet and touching Instagram post.
Following this post, Kylie is officially the only Kardashian-Jenner left who needs to either confirm or deny her own pregnancy rumors. So here are all the pieces to this puzzle that we've been trying to solve for months now: the Kardashians have been teasing their Christmas Card for 24 days now, Kylie has not yet made an appearance, Khloé has already confirmed her pregnancy, nobody close to Kylie has either confirmed or denied her pregnancy rumors, and now, we also know that Kylie's the last woman standing who needs to appear in the family Christmas card.
So what does that leave? Well, hopefully a grand ol' Christmas-day pregnancy announcement via the Kardashian Christmas Card for Kylie. Think about it: The dramatic flair of this sort of announcement would be very on-brand for the Kardashian family. We've got our money on this theory, and I, for one, cannot wait to see if it's actually true. For Kardashian fans (if this actually does happen), a Kylie Jenner pregnancy confirmation would surely be the greatest gift of all.
Check out the entire Gen Why series and other videos on Facebook and the Bustle app across Apple TV, Roku, and Amazon Fire TV.