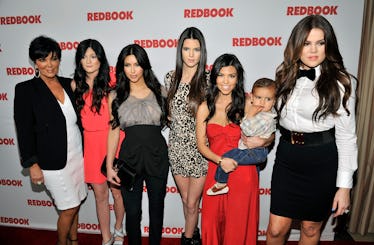 The Latest Christmas Kardashian Photo Has Fans Freaking Out Over Kylie Jenner
Toby Canham/Getty Images Entertainment/Getty Images
If you're a Kardashian fan, then you've likely been keeping a close eye on all of their social media posts thanks to Kim's "25 Days of Christmas." The famous family is slowly revealing the full card, and Kendall Jenner's first group Kardashian photo has fans wondering where Kylie is. Both Kris Jenner and Kim posted the second to last photo of the series on Sunday morning, Dec. 24, and Kylie's absence was immediately noticed.
Day 24 marks Kendall's second appearance in the Christmas photo series, but it's her first picture with the whole fam — her first photo was a solo shot. While fans were happy to see the group shot of the family, their excitement over the reveal was quickly eclipsed by their desire to see the youngest Jenner sister join her family. Kylie, who is allegedly pregnant with her first child, still has not made an appearance in the storied Kardashian Christmas card, and there is only one day left (cue freak out).
Naturally, this caused anxious fans to wonder if the reportedly expectant Kylie would ever make an appearance.
Kris Jenner posted "DAY 24" on Twitter.
There's no doubt that this photo is a stunning shot of many members of the crew, but Kylie's absence was sorely felt by the Kardashian-Jenner faithful.
Fans immediately wanted to know where Kylie was.
Really, though, where is she?
Crying emojis were everywhere.
Same question, new emoji.
All caps for the all-important question.
"WHERE. IS. KYLIE."
The hard-hitting questions were posed.
The "25 Days of Christmas" really is the great Kylie vanishing act of 2017.
Fans were not kidding around.
Of course, they found the perfect Kris Jenner GIF to express themselves.
They'll use any excuse for a Kim crying picture.
"Kylie?"
After fans were able to air their grievances with the less-than-complete family photo, they moved on to posting about their theories as to how Kylie will make her highly-anticipated Christmas card debut.
Fans were confident that Christmas would be the day all Kylie fans have been not-so-patiently waiting for.
"I just know it."
Tomorrow's photo is all-or-nothing for those fans awaiting a pregnancy announcement.
"I'm done."
Kylie finally showing up on the Christmas card is number one on many fans' wish lists.
"I can't wait for Kylie tomorrow."
"Bet on it," you guys.
She seems so confident that I fully believe it.
At first, it might seem like fans are whipping themselves up into a frenzy for nothing, but there are a few of reasons why this year's Christmas card is being so closely watched.
First (and most obvious) of all, fans have been awaiting a Kylie pregnancy confirmation since late September of this year. The Lip Kit maven has been fiercely tightlipped about the whole thing. Thankfully, fans received a bit of good baby news when Khloé Kardashian finally confirmed her pregnancy in an announcement on Dec. 20, when she confirmed that she is expecting her first child with her boyfriend, Tristan Thompson.
Another reason for all of the fanfare over the Kardashian Christmas card is that the family hasn't posted an entire-family official Christmas card since 2013 (so long ago!). The last official card was in 2015, but (while it was adorable) it only featured the kids.
Finally, Kim piqued every fan's interest at the beginning of the month when she posted a shot from the Christmas card on her Instagram account and captioned it with "25 DAYS OF CHRISTMAS." Since then, she's been teasing fans and revealing bits of the card one day at a time. Thanks to the slow release, eagle-eyed fans have noticed the missing family members.
So far, there has yet to be a Rob, Kylie, or Scott Disick appearance. Given that it's Christmas Eve and day 24, you'll have all of your questions answered tomorrow on day 25. Here's to Kim (hopefully) making all of your Kardashian Christmas dreams come true!
Check out the entire Gen Why series and other videos on Facebook and the Bustle app across Apple TV, Roku, and Amazon Fire TV.