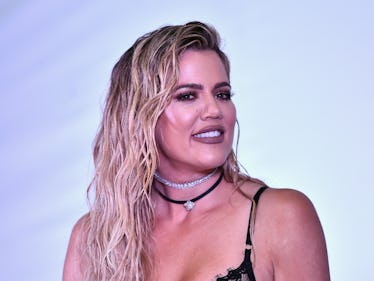 Khloé Kardashian Revealed Her Baby Bump On Instagram & It's Gorgeous
Alberto E. Rodriguez/Getty Images Entertainment/Getty Images
After months of public speculation and scrutiny, Khloé Kardashian officially announced that she is pregnant with boyfriend Tristan Thompson's baby on Dec. 20. Fans of the 33-year-old reality star have been waiting anxiously for confirmation from Kardashian herself since pregnancy rumors started circulating back in September 2017. In an Instagram post, Khloé debuted a black and white photo of her baby bump, which she captioned:
My greatest dream realized! We are having a baby! I had been waiting and wondering but God had a plan all along. He knew what He was doing. I simply had to trust in Him and be patient. I still at times can't believe that our love created life! Tristan, thank you for loving me the way that you do! Thank you for treating me like a Queen! Thank you for making me feel beautiful at all stages! Tristan, most of all, Thank you for making me a MOMMY!!! You have made this experience even more magical than I could have envisioned! I will never forget how wonderful you've been to me during this time! Thank you for making me so happy my love! Thank you to everyone for the love and positive vibes! I know we've been keeping this quite but we wanted to enjoy this between our family and close friends as long as we could privately. To enjoy our first precious moments just us Thank you all for understanding. I am so thankful, excited, nervous, eager, overjoyed and scared all in one! But it's the best bundle of feelings I've ever felt in my life!
The news of Khloé's pregnancy is probably just as thrilling for her long-time fans as it is for people who actually know her in real life. For those who have kept up with the Kardashians for over a decade, it's no secret that Khloé has wanted children for a long time.
In the most recent season finale of Keeping Up With The Kardashians, Khloé opened up to cameras about her hopes to one day start a family with Thompson. During the Season 13 finale, audiences watched a fertility doctor suggest Khloé freeze her eggs and stop taking her birth control to help her chances of getting pregnant.
Khloé has always been open about her desire to have children, and shared that Tristan also wants to start a family.
He wants to have about five or six kids with me and that's lovely. We could start at one and we could grow from there. But now knowing I'm not on birth control is scary. It's like a really big step.
One kid is officially on the way, and it sounds like we can expect four to five more Instagram reveals within the next decade. The euphoric thrill of social media has never felt so real.
However, once the dust settles around Khloé's Instagram pregnancy announcement, fans will undoubtedly switch into high gear when it comes to manning the Kylie Jenner Baby Bump Watch Patrol.
On Sept. 22, a mere four days before the rumors of Khloé's pregnancy broke, TMZ posted an article claiming sources close to Travis Scott revealed Kylie Jenner was pregnant with his baby. Since the announcement, Kylie has kept a much lower profile on social media and in public, which is extremely unlike the 20-year-old reality star.
So, with a fire in your thumbs and a Travis Scott song in your heart, keep scrolling through Instagram... because if I was a betting Entertainment Editor, I'd say another Kardashian/Jenner official announcement will hit your feed soon. The holidays truly are the most magical time of the year.