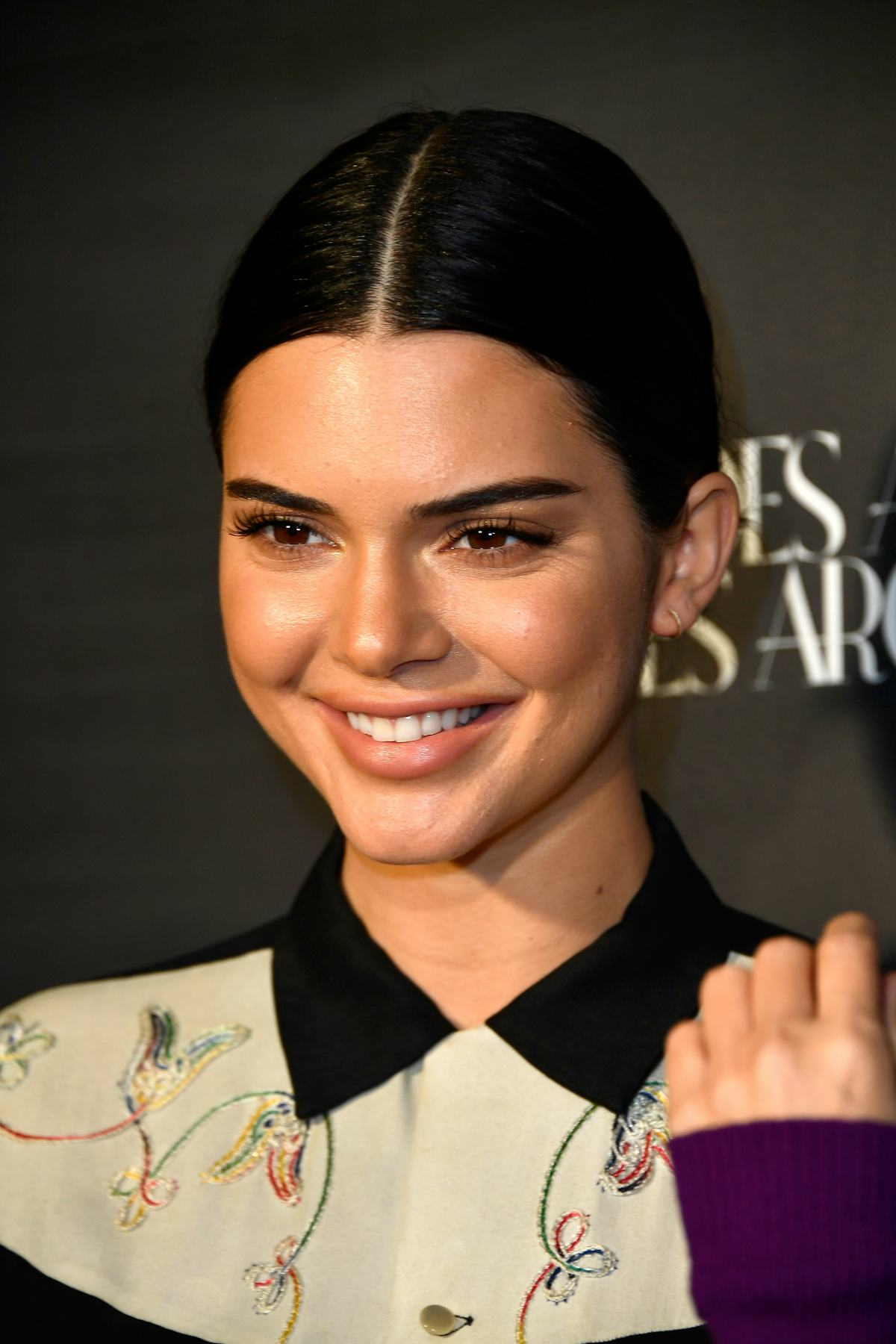 Kendall Jenner Finally Appeared On The Kardashian Christmas Card & The Pic Is Stunning
Frazer Harrison/Getty Images Entertainment/Getty Images
If you're a fan of the annual Kardashian-Jenner holiday card, you have probably been loving this year's format. Each day of December, our favorite reality television fam is releasing one snippet of their yearly family portrait. So far we have seen Kim, Kanye, Kourtney, Mason, Penelope, Reign, North, Saint, and Dream. Now, we have finally spotted a Jenner. Kendall Jenner's Christmas card photo was released on Dec. 12 and it is so stunning.
Fans were questioning why Kendall and Kylie hadn't yet made an appearance on the holiday card. Well, 12 days into the month, we finally have our debut Jenner. As expected, Kendall looks amazing in her portion of the holiday card. The theme this year is crisp and casual. All the family members are wearing jeans, white tops, and are barefoot. Much of the background is white, but in some photos you can see a lush evergreen tree in the background.
All of the family members are seen in different poses — some sitting, others standing, and the kiddos are seen running around having fun. The resident model Kendall is sprawled out on the ground looking gorgeous as ever. She's rocking the uniform denim with a white crop top and her hair pulled back.
Since we have Kendall, does this mean Kylie is next? Maybe not. There has been a fan theory circulating as to why the Kardashian-Jenner family is choosing to reveal the card with such a slow process. Fans are speculating that Kylie and Khloé's reported pregnancies will finally be confirmed with the family holiday photo.
If you think about it, that is a fabulous way to reveal the reported pregnancies. The family has done an annoyingly good job dodging all sorts of baby-related questions the past few months. This is not out of their nature — if something big is going to be announced, you best believe it won't be confirmed until the fam wants it to be.
Hopefully, SOMETHING about the reported pregnancies will be confirmed — I just want to know at this point. I swear, if they try something sly like Kylie wrapped in a present, I will lose it.
Finding out the the truth about Kylie and Khloé's reported pregnancies will be a wonderful holiday gift. I was starting to doubt if we would get any info at all — especially when it came to the youngest Kardashian-Jenner.
A source told People in November,
Kylie wants to disappear and be out of the spotlight and focus on her health and happiness.
Part of disappearing would include not confirming or denying her reported pregnancy until after literally giving birth. The source continued,
Kylie isn't going to publicly address her pregnancy until she gives birth. She's not doing any public appearances and just wanted to take six months off.
Wild, right? I totally understand that Kylie would want to take a break, but this game of "is she or isn't she" has gone on too long. As it turns out, Kylie has been having a good time teasing fans. The source added,
Kylie is only trusting her closest friends and her sisters right now. She wants to reveal things on her own terms but she's, of course, having fun teasing everyone. She knows all the attention is on her and her baby bump, but she won't share until she wants to.
You can run, you can hide, but there's no getting out of Kris' family holiday photo.
Overall, the Kardashian-Jenner holiday card is a great way to catch up with the family if you haven't been "keeping up." LOL, GET IT? I'm sorry, don't hate me. All the family members shown thus far look so stunning, I can't wait to see the rest of the reveal.
Check out the entire Gen Why series and other videos on Facebook and the Bustle app across Apple TV, Roku, and Amazon Fire TV.