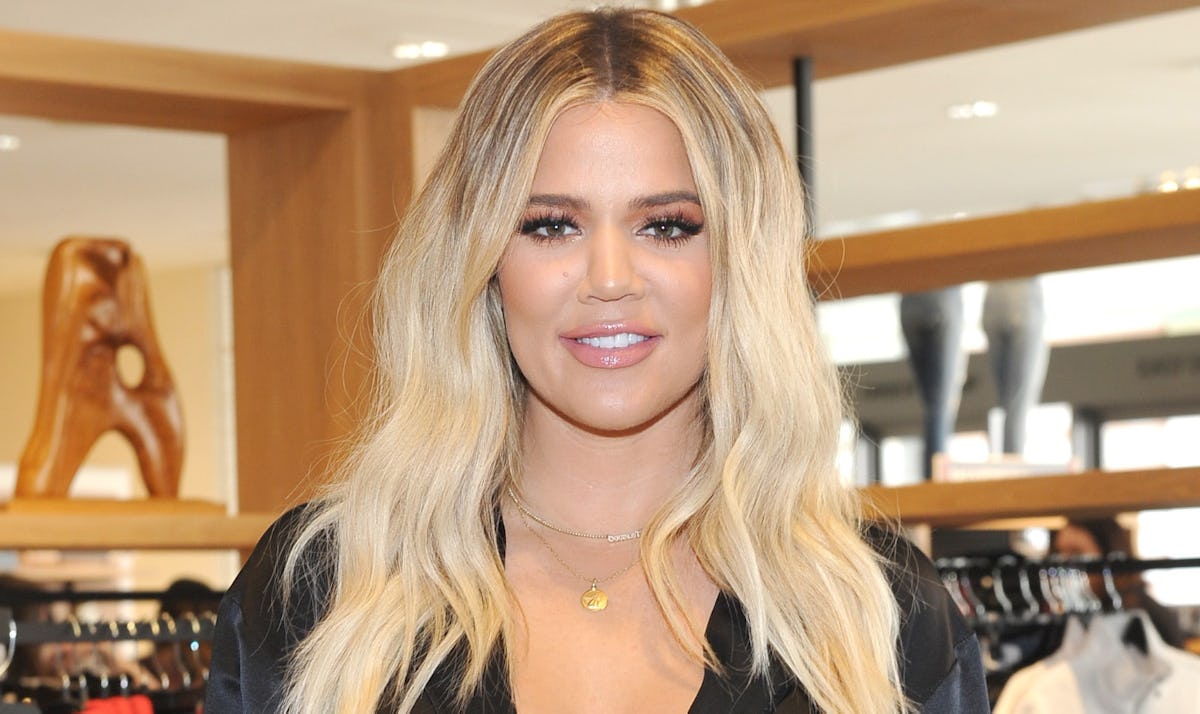 Here's Everything We Know About Khloé Kardashian's Reported Baby Shower
Khloé Kardashian has apparently started planning her baby shower! According to People, Khloé Kardashian's baby shower will be happening soon and is going to be a private, "low-key" event, so no cherry blossom extravaganza like Kim Kardashian's baby shower. A source told People that Kardashian and Tristan Thompson, who currently live in Cleveland together, are trying to figure out their Christmas and New Year's plans, but they've reportedly already decided Kardashian will give birth to their first child together in L.A. Of course, this is all hearsay since Kardashian still hasn't confirmed her reported pregnancy, but hopefully we'll learn the truth soon. The source said, "Khloé wants to give birth in L.A. That's the plan right now. For Christmas, Khloé wants to be with her family." They added, "Tristan has a game on Christmas Day, so they are still deciding if they will celebrate together, or apart. Either way, they are spending New Year's together."
Yeah, yeah, yeah, but what about that reported baby?! The source said Kardashian wants her baby shower to be "low-key like Kylie's," aka devoid of media attention and posting on social media. As previously reported, Kylie Jenner reportedly had her baby shower one day after Kim Kardashian. The event was apparently very small and kept out of the public eye, with no one being allowed to post photos from the intimate event. The source told People that Kardashian has been "very happy" throughout her reported pregnancy. They said, "Khloé seems very happy. She doesn't really talk about the baby. She hasn't had a baby shower yet, but has one scheduled."
Kardashian posted a heartfelt message to Thompson on Monday, Dec. 11 saying, "❥The day I met you, my life changed. Thank you my love!❥" It seemingly wasn't a post for any special occasion — she just wanted to tell the world how much she loves her boyfriend. How cute! The photo Khloé posted was from the surprise birthday party Thompson threw her back in June. Around that birthday time, Thompson posted a couple of shots from the photo booth at the party to wish his girlfriend of one year a happy birthday. He said,
Happy bday my love, this picture right here sums up how wild, crazy and how much we love each other. Let's continue to build more memories and cherish them with each other. God bless you, I love you.
If the reports are true and Kardashian is, in fact, pregnant, this will be her first child and Thompson's second. (He has a son from a previous relationship.)
In the episode, she first told Khloé over the phone. When she told Kris Jenner, the ultimate momager responded through tears "Kim, I'm so happy for you. It's just to be able to do that is great. I'm really happy for you." Kardashian also revealed that before she got pregnant with Saint West, she lost an embryo that she had previously had implanted. Khloé Kardashian commented on that experience, saying, "Before Kimberly got pregnant with Saint, she had an embryo implanted in her and that embryo did not take. So Kim is super nervous and anxious during this waiting period." Despite her difficulties with past pregnancies, Kim K said she completely trusts her surrogate. She told her family,
Finding someone you really trust is really more difficult than you can imagine. … It was maybe a year before we finalized our current situation. She's such a nice person. Like, she's so easy to talk to.
We still don't know for sure if/when Khloé Kardashian will confirm her reported pregnancy, but there is one fan theory that says the family is using their 2017 holiday card to do the big reveal.