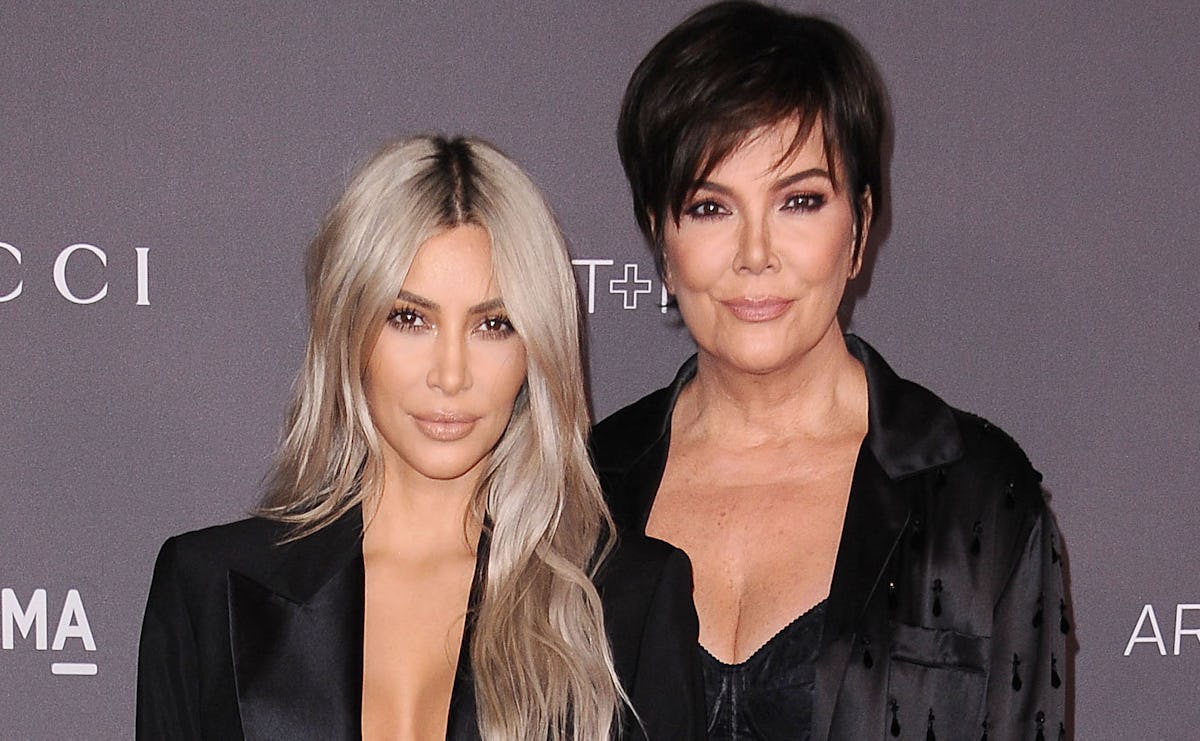 Kris Jenner's Reaction To Kim K's Surrogate Getting Pregnant Is So Emotional
Itttttt's Monday! You know what that means? It's time for a Keeping Up With The Kardashians recap. This week's episode finally showed us how Kim Kardashian revealed her surrogate news to her various family members, and she also revealed some other details about her struggles to get pregnant with baby number three/find the perfect surrogate when she couldn't get pregnant herself. And while Khloé Kardashian had a great reaction to the happy news, Kris Jenner's reaction to Kim K's surrogate getting pregnant is classic mom.
Kris Jenner was in tears after learning Kim K's baby news, saying how happy she was that it finally worked out for her and Kanye West. Kardashian revealed that before she got pregnant with Saint West, she lost an implanted embryo, which is part of the reason she decided to find a surrogate to carry their third child. She said in the episode, "One didn't work with me. I tried it and I lost one of them." Khloé Kardashian confirmed this was true when she said in a solo shot, "Before Kimberly got pregnant with Saint she had an embryo implanted in her and that embryo did not take. So Kim is super nervous and anxious during this waiting period."
Given all that, it makes sense why Kris Jenner would be so emotionally moved by Kim K's news. When Kardashian revealed their surrogate was pregnant, Jenner said through tears, "Kim, I'm so happy for you. It's just to be able to do that is great. I'm really happy for you." Kardashian added, "This particular surrogate, she was the best fit for my family so we just had to go with it and try one embryo." She also said she trusts her surrogate completely and that she's very easy to talk to. She said to her family,
Finding someone you really trust is really more difficult than you can imagine. … It was maybe a year before we finalized our current situation. She's such a nice person. Like, she's so easy to talk to.
Later in this tear-filled convo (and after confirming the baby is a girl), Kardashian opened up about her relationship with her surrogate, saying she hasn't been trying to control everything every step of the way during this pregnancy. She said, "I don't want people to find my surrogate. … I don't want people following her and chasing her. I really trust my surrogate. I'm not trying to control her every move."
Although she says she has full trust in her surrogate and isn't trying to be in control of it all, she said in an interview with ET that the loss of control has been difficult for her. Kardashian said,
Anyone that says or thinks [surrogacy] is just the easy way out is just completely wrong. I think it is so much harder to go through it this way, because you are not really in control. And, you know, obviously you pick someone that you completely trust and that you have a good bond and relationship with, but it is still ... knowing that I was able to carry my first two babies and not, you know, my baby now, it's hard for me. So, it's definitely a harder experience than I anticipated just in the control area.
When it comes to how North and Saint West are digesting the baby news, Kardashian told Ellen DeGeneres that it has been a little confusing for them, but they're both excited.
She told DeGeneres, "I don't know if my son gets it yet, especially since I don't have the belly, it is a different experience." According to Us Weekly, Kim Kardashian and Kanye West's surrogate is due this month! So, we're officially on Kardashian baby watch, people (she says, as if we haven't already been on Kardashian baby watch ever since rumors of Kylie and Khloé's reported pregnancies started in September...)!