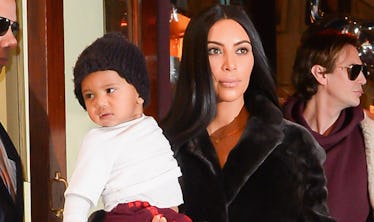 Kim K Wrote The Sweetest Message For Saint West's Birthday & It'll Make You Sob
Dec. 5, 2017, is Saint West's second birthday, and Kim Kardashian's birthday message for Saint West is the cutest thing you'll see all week. In addition to wishing her only son a happy birthday on her app, the soon-to-be mother of three made a photo of Saint the day 5 installment of the Kardashian Christmas card calendar. The family announced they would be posting one photo from their holiday card per day leading up to Christmas starting Dec. 1, and so far, the photos have not disappointed. The first photo posted on Dec. 1 was also of Saint West, but instead of a closeup like today's photo, it featured Saint combing through some cardboard boxes, likely filled with Christmas presents. It's adorable AF, and the photo of him today is just as cute. Kardashian penned the sweetest note for her and Kanye West's son on her app, saying,
To the sweetest boy in the whole wide world, HAPPY BIRTHDAY!!! I can't believe you are 2 today. Thank you for choosing me to be your mom. I feel so blessed you are in my life. I love you so much!
This is the adorable holiday photo Kardashian posted of Saint West:
In the tweet she posted, she said, "DAY 5- HAPPY BIRTHDAY to my beautiful boy Saint! I love you so much! You don't even understand!!!" Saint is about to become a big brother to a baby sister this month. Accordingly Us Weekly, Kim Kardashian and Kanye West's third child, a daughter, is arriving "before Christmas." Kardashian said in an appearance on The Ellen Show that her daughter North West is really excited to have a baby sister. She said,
My daughter, she's really tricky. We had a baby shower over the weekend, and I thought: 'I really do want a baby shower because I want her to feel that something's coming, and I really want her to understand.' People brought toys and gifts [to the shower], and we were opening them all up the next day and North said, 'Mom, since baby sister's not here, I think I need all of her toys in my room and I'll play with them and just make sure they're OK for baby sister.'
She added that baby Saint doesn't really understand what's going on when it comes to the new baby, which makes sense, seeing as he's literally a baby himself. She said,
I don't know if my son gets it yet, especially since I don't have the belly, it is a different experience. So I said to my sisters, 'Would I be really creepy if I just had someone dress up as a big stork and drop the baby off at the front door?'
DeGeneres joked a said, "You're gonna mess him up real bad. No, don't do that." Kardashian added that North might be excited for the new baby now, but she's not sure how long it will last.
North is really excited about [having a sister]. [Having] a brother was a little trickier. Now, she's so excited. Let's see if it lasts. I've had to explain to her: 'OK, 4 in the morning when you come into my room, I have to be with baby sister. I have to feed her.'
The Kardashians actually have a lot of family birthdays in December/winter in general. Baby Saint's birthday is Dec. 5, Mason and Reign Disick share the same birthday of Dec. 14 (Mason born in 2009, Reign in 2014), and Dream Kardashian was born Nov. 10, 2016. Kendall Jenner was born Nov. 3, 1995, and the woman who started it all, Kris Jenner, was born on Nov. 5, 1955. That's a sh*t ton of birthdays to have all in one month, but they're going to have to make room in the birthday calendar for the new addition to the Kardashian/West family!!