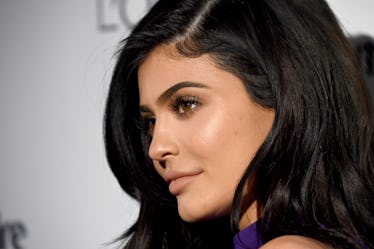 The Best Fan Theories On When & How Kylie Jenner Will Reveal Her Pregnancy
Frazer Harrison/Getty Images Entertainment/Getty Images
There is so much mystery surrounding Kylie Jenner and her reported pregnancy. Rumors first started swirling a whole three months ago that the youngest Jenner sib was having a baby with her current boyfriend, Travis Scott, and ever since, her fans have been scouring social media for clues to backup the news. Now that her big sis Khloé has finally confirmed that she has her own bun in the oven, everyone wants to know when and how Kylie will reveal her pregnancy.
Here are the top five fan theories for how the big reveal will finally go down:
Theory #1: On Day 25 of the Kardashian Christmas Card
The most popular premise making the rounds is that when Kylie finally drops the baby news, it will happen on Day 25 of the Kardashian's advent-style Christmas card. ICYMI, the K-crew has turned their annual card tradition into a month-long social media extravaganza. Each day starting on Dec. 1, Kim and Kourtney have been sharing one photo on social media featuring various members of the family.
So far we've seen Khloé, Kendall, Kourtney, Kris, Mason, Penelope, Reign, Dream, and the entire West fam. Even MJ made an appearance.
But you know who hasn't turned up yet? Kylie. And it's already Day 22. Will Day 25 be her big bump debut? Her Twitter fans seem to think so.
Same. Only three more days left until we find out, dolls!
Theory #2: In a Separate Instagram Post Similar to Khloé's
Khloé sent the internet into a serious frenzy on Dec. 20 when she posted a picture of her boyfriend, Tristan Thompson, with his hands wrapped around her clearly pregnant belly:
"My greatest dream realized!" the mama-to-be wrote in the caption. "We are having a baby!"
I am SO happy for my girl Khloé, and now I can't help but wonder if the makeup mogel will eventually follow suit with her own solo post. After all, she did use social media to launch her billion-dollar beauty line, so it only makes sense for her to stay in her comfort zone.
Theory #3: When She Finally Gives Birth in February
According to Radar Online, Momager Kris Jenner is behind all the secrecy surrounding Kylie's pregnancy. Because of course she is! And while a source explained that Kris originally instructed Kylie to wait until the fam is done filming to make her announcement, she apparently now wants her youngest daughter to stay quiet until after she give birth!
Like, what?
"As of right now, they're even considering waiting until after the baby is born to come forward, because Kris thinks it would be huge," the source explained. "She believes it is a genius idea, actually."
Really hoping this one's not true, and something tells me Kylie does, too.
Theory #4: After Kim's Baby is Born Out of #Respect for Her Sister
Another rumor circulating back in September, along with the one about Kylie's pregnancy, was the fact that her sister Kim was not happy about it — and I kind of believe this one, because that is just so Kim.
"Her first reaction was, 'Seriously?'" a source told People. "She didn't respond well at first. It's like she and Kanye had gone on this whole journey to get pregnant for months, and now this happens to Kylie."
Kim is currently expecting her third child, a daughter via surrogate, and we can totally see Kylie deciding to cede the spotlight to Keeks and take a back seat.
Theory #5: The Announcement is Coming ASAP
Of course, the reverse rumor is also making the rounds. According to The Sun Online, Kim wants Kylie to tell the world about her pregnancy right this very now, so that all the buzz has a chance to die down before her own baby is born.
"Kim is so keen for Kylie to get her news out there and everyone thinks it's so Kylie's announcement doesn't overshadow Kim's baby arriving," a source revealed.
On the one hand, we can totally see Kim doing this. I mean, remember the way she freaked out over Kourtney copying her Chrsitmas decorations? But on the other hand, the Kardashians are usually all about love and family. Since the babies will be right around the same age, this seems like something Kim would be genuinely excited about.
No matter which way Kylie chooses to reveal the big news — you know, if there actually is big news — I hope everyone just focuses on the joy of the situation, and lets everything else fall into place. The idea of Kylie being preggers is seriously giving me life right now and this is such a happy moment for all of them, so let's just celebrate it, okuuur?