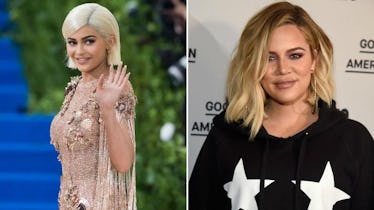 Fans Are Being Rude AF After Khloé Kardashian Announced Her Pregnancy
Gilbert Carrasquillo/GC Images, Kevin Mazur/Getty Images for Good American
THE TIME HAS FINALLY COME. Khloé Kardashian announced she is expecting her first child with boyfriend Tristan Thompson and fans are so, so thrilled for her. However, some fans are already onto the next. With rumors swirling since earlier this year that Kylie Jenner is pregnant, fans are wondering if Jenner will confirm her reported pregnancy now that sister Khloé has. These tweets about Kylie Jenner after Khloé Kardashian's pregnancy announcement are honestly a little rude.
Khloé Kardashian confirmed her pregnancy in an absolutely adorable Instagram post on Wednesday, Dec. 20. The post read,
My greatest dream realized! We are having a baby! I had been waiting and wondering but God had a plan all along. He knew what He was doing. I simply had to trust in Him and be patient. I still at times can't believe that our love created life! Tristan, thank you for loving me the way that you do! Thank you for treating me like a Queen! Thank you for making me feel beautiful at all stages! Tristan, most of all, Thank you for making me a MOMMY!!! You have made this experience even more magical than I could have envisioned! I will never forget how wonderful you've been to me during this time! Thank you for making me so happy my love! Thank you to everyone for the love and positive vibes! I know we've been keeping this quiet but we wanted to enjoy this between our family and close friends as long as we could privately. To enjoy our first precious moments just us ❤️ Thank you all for understanding. I am so thankful, excited, nervous, eager, overjoyed and scared all in one! But it's the best bundle of feelings I've ever felt in my life! ❤️❤️❤️
The reports of Kardashian's pregnancy first started way back on Sept. 26 with a report from People.
Fans couldn't handle their excitement and took to Twitter to congratulate Kardashian and Thompson on the news. Others, however, took it as the time to call out Kylie Jenner over her silence concerning the pregnancy reports that have surrounded her since about the same time as Khloé's.
Believe me... I want to know just as much as the next Kardashian-obsessed human being whether Jenner is carrying Travis Scott's baby or not. (Elite Daily previously reached out to Kylie Jenner's and Travis Scott's teams for confirmation and comment, but did not hear back by time of publication.) But, come on, people. Khloé Kardashian just announced her pregnancy and people couldn't take a deep breath before shifting the spotlight over to Jenner. This fan feels me:
And, not sure if you noticed, but Jenner is not one to be searching for the spotlight these days. In fact, a report from People says Jenner won't even be confirming her pregnancy until she gives birth. The source says,
Kylie wants to disappear and be out of the spotlight and focus on her health and happiness.
The source continued,
Kylie isn't going to publicly address her pregnancy until she gives birth. She's not doing any public appearances and just wanted to take six months off.
So, let's take a moment to send good vibes to Kardashian and Thompson. The two have been dating for a little over a year and seem to have an amazing relationship. Kardashian has also hinted at the possibility of having children with Thompson on Keeping Up With The Kardashians. She told viewers,
Tristan and I definitely talk about starting a family. He wants to have like five or six kids with me, and that's lovely. We can start at one and grow from there.
At another point on the show, Kardashian told sister Kim,
[Tristan] wants to have kids now. He said, 'I want to have kids with you, [and] if you get pregnant, you could make maternity jeans for [your clothing line] Good American.'
So, is that Kardashian's next venture? Congratulations to the new parents!