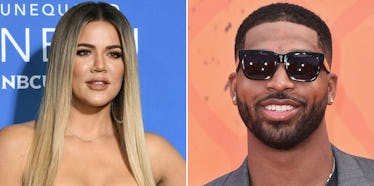 Khloe K. Gets Real About Future With Tristan Thompson: "He Wants To Have Kids Now"
Dia Dipasupil/Alberto E. Rodriguez/Getty Images
If you're even a casual fan of Keeping Up with the Kardashians, you know A LOT about the reproductive systems of Kourtney, Kim, and Khloé.
The sisters have discussed pregnancy, fertility, and options like surrogacy for years on their show, so at this point, there is very little audiences find surprising.
For example, we know Kim had two very difficult pregnancies with Saint and North. We also know Khloé struggled to get pregnant with ex-husband Lamar Odom. And of course, everyone knows Kourtney and Scott Disick seemingly get pregnant by simply staring at each other.
Recently, Khloé admitted she secretly stopped fertility treatments when she was with Odom because she knew their marriage wasn't stable.
Now, in a new promo for the show, Khloé's opening up yet again about having babies, and it seems like she's seriously considering starting a family with boyfriend Tristan Thompson.
After casually discussing becoming a surrogate for big sister Kim (we never get an answer on how serious Kim's suggestion is), Khloé heads to the doctor for a check-up, where the doctor gives her not-so-great news.
The doctor tells her,
You're 32, but your ovaries are acting a little bit older... I know we're here to talk about helping grow their family, but seeing this, you may consider getting these in the freezer while they're young.
Yikes, that's heavy.
Luckily, the trailer doesn't tease us for too long, though, and we find out everything is actually A-OK. Khloé explains it was simply her birth control messing with things and once she went off everything was fine.
OK, so now that it seems like Khloé can have babies, will she?
The 32-year-old has been dating 26-year-old NBA forward Tristan Thompson since last year and isn't shy about her feelings for him.
In the preview for the upcoming episode, Khloé tells Kim,
[Tristan] wants to have kids now.
WHOA. So I guess we have an answer on how serious they are.
She tells viewers,
Tristan and I definitely talk about starting a family. He wants to have like five or six kids with me, and that's lovely. We can start at one and grow from there.
Khloé, are you trying to outdo Kourtney? That's a lot of children!
Thompson already has one child, 6-month-old Prince, with model Jordan Craig. So Khloé would also be a stepmom if they decide to marry.
And if you're thinking they're talking about starting a family together in the distant future, Khloé insinuates it could actually be quite soon.
She says,
Now, like knowing I'm not on birth control, it's just, like it's scary. It's like a really big step.
I guess we'll have to wait and see where this big step will take them.