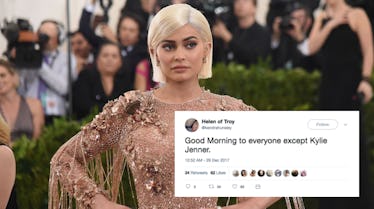 Fans Are Pissed At Kylie Jenner Over Day 25 Of The Kardashian Christmas Card
Nicholas Hunt/Getty Images For Huffington Post, Twitter
THE ENTIRE KARDASHIAN FAMILY IS DEAD TO ME EXCEPT FOR KHLOÉ. And the only reason Khloé isn't dead to me is because she actually confirmed her pregnancy last week and didn't betray me like the rest of the family has. As for Kylie Jenner and Kim Kardashian... we are not on speaking terms, ladies! In case you missed it because, you know, you were spending time with your loved ones on Christmas and not glued to Instagram, day 25 of the Kardashian Christmas card didn't feature Kylie Jenner and her reported baby bump. There was no reveal, everyone on the internet is now dumber for thinking there would be, we have been awarded no points, and may God have mercy on our souls.
You see, throughout this entire makeshift Kardashian advent calendar, the internet collectively believed Kylie Jenner would confirm her reported pregnancy on day 25 of the photo reveal, aka Christmas. Come Christmas, everyone was literally waiting with baited breath for the moment Kim Kardashian would post the last photo, thinking the final rumored Kardashian pregnancy would be confirmed and our wait would be over. But that apparently wasn't in the cards, as Kim Kardashian posted the last photo around 5 p.m. on Christmas day and Jenner is nowhere to be freaking found! Is she taking the photos?! Is she in the freaking tree?! Tell me!
To say the internet feels betrayed would be an understatement. We have been bamboozled! (Side note: We'll talk about the fact that Kendall Jenner is totally photoshopped into all of these later.)
If Kylie Jenner doesn't turn up soon, I'm calling Liam Neeson because she's obviously been Taken™.
I don't know what upsets me more: The fact that pregnant Kylie Jenner isn't in day 25 photo of the Kardashian Christmas card, or the fact that I care.
Suffice it to say we feel betrayed! We were rooting for you, Kardashian Christmas card. We were all rooting for you!
But there is a silver lining in all of this heartbreak, my friends. And that silver lining is Khloé Kardashian.
Kardashian mercifully posted photos of her baby bump on Christmas, and not only am I living for this outfit, but also the ponytail. That ponytail is my new religion. She posted two photos of herself at Kris Jenner's Christmas party and captioned them,
✨Merry Christmas!! May you sparkle and shine this festive season, may all of your wishes and dreams come true. I pray that we all may feel this happiness all year round. God bless you! ✨ #BabyBump🤗
Thank you for this, Khloé! And also thank you for your velvet shoes.
She said,
My greatest dream realized! We are having a baby! I had been waiting and wondering but God had a plan all along. He knew what He was doing. I simply had to trust in Him and be patient. I still at times can't believe that our love created life! Tristan, thank you for loving me the way that you do! Thank you for treating me like a Queen! Thank you for making me feel beautiful at all stages! Tristan, most of all, Thank you for making me a MOMMY!!! You have made this experience even more magical than I could have envisioned! I will never forget how wonderful you've been to me during this time! Thank you for making me so happy my love! Thank you to everyone for the love and positive vibes! I know we've been keeping this quiet but we wanted to enjoy this between our family and close friends as long as we could privately. To enjoy our first precious moments just us ❤️ Thank you all for understanding. I am so thankful, excited, nervous, eager, overjoyed and scared all in one! But it's the best bundle of feelings I've ever felt in my life! ❤️❤️❤️
See, Kim and Kylie?! This is how you please your fans! (Not that you owe us literally anything at all. Please enjoy this precious time in your lives. We're all just loyal trolls. Love ya!) Merry Chrysler, everyone.