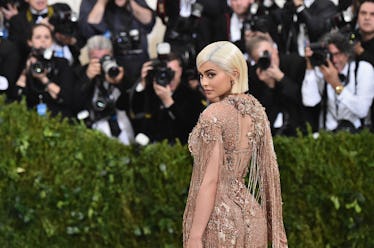 17 Hilarious Tweets From People Who Are Dying To Know If Kylie Jenner Is Pregnant
Mike Coppola/Getty Images Entertainment/Getty Images
Merry Christmas, everybody! If you're like me, you spent the morning opening presents, chilling with your fam, and refreshing Instagram to see if the Kardashians had posted Day 25 of their Christmas card yet. I'm not even gonna try and lie about it — almost every person seated at our brunch table today was glued to their phone on bump-watch. And apparently we weren't the only ones, because Twitter is currently blowing up with fans waiting for the K-fam to drop their latest pic. And the tweets from people who are dying to know if Kylie Jenner is pregnant are actually hilarious.
It's not all that surprising, given the fact that rumors about the youngest Jenner sib's reported pregnancy have been swirling for months now. And one of the most popular theories making the rounds is that when she finally confirms the baby news, it would happen on Christmas Day, via Day 25 of the Kardashian's Advent calendar-style card.
Each day starting on Dec. 1, Kim and Kourtney ( and sometimes Kris) have been sharing one photo on social media featuring various members of the family. So far we've seen Khloé, Kendall, Kourtney, Kris, Mason, MJ, Penelope, Reign, Dream, Kim, Kanye, North, and Saint. And since today is Day 25, everyone is expecting to finally see Kylie — along with her big, beautiful belly.
Same. But we're now halfway through the day, and we still haven't gotten confirmation, and everyone on Twitter is totally freaking out about it. Because, like, hello! Why haven't they shared their big Christmas shot yet? I mean, I don't have all day to just sit around and wait for it.
Well, actually I do. And so, apparently, does the rest of the world. Just check out all these hilarious "patiently waiting" posts on Twitter.
Even Katie Maloney-Schwartz, star ofVanderpump Rules, got in on the action because at the end of the day, reality TV stars are just like us, you guys!
And while in the beginning, the "waiting around" posts had a hint of fun and excitment about them, some of them have now moved into disgruntled and angry territory.
Seriously, what are you waiting for, guys?! The kids can't still be opening their gifts... can they?
In the meantime, plenty of Twitter users have no shame about admitting that a possible Kylie pregnancy reveal on Christmas has completely overshadowed the arrival of the Christmas holiday itself.
Some even managed to tap into the holiday spirit by finding a silver lining in all the Day 25 Christmas card madness:
TBH I do love a good wine nap.
Of course, there is one more theory making the rounds today, and it's a good one: The hypothesis holds that Kylie has already given birth, and that the Day 25 card will actually feature her holding her baby.
For proof, one Twitter user noted that North, Kris, MJ, Kourtney, and Penelope are all looking off to their right — supposedly at Kylie and her new baby, hence, their huge smiles.
Oh please oh please oh please let this be true. Of course, they could all be looking at, like, Kanye's new Ferrari or something. But I really want them to be looking at Mama KyKy. Can you even imagine how amazing this would be? Like, maybe our girl Kylie hasn't been in hiding for the last few months because she was preggers — maybe she was staying on the DL because she was enjoying her time as a new mom.
I know it's a stretch — but it's just so crazy it might be true. And I wouldn't put anything past this crew. After all, they somehow managed to keep Khloe's growing baby belly off the radar for months, depsite the fact the she's got paps on her tail every second of every day.
Guess we'll find out when they finally post Day 25. And until then... refresh.