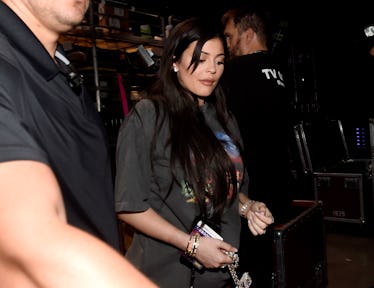 Kylie Jenner's Low-Key Halloween Celebration Could Be A Clue She's Actually Pregnant
David Becker/Getty Images Entertainment/Getty Images
Somehow, it's been an entire month and one full week since rumors broke suggesting Kylie Jenner might be pregnant with boyfriend Travis Scott. Today, we still don't have a straight answer. Fans have been waiting as patiently as humanly possible for confirmation on Jenner's rumored pregnancy, and after five long-*ss weeks of hoping and praying for details, we've still got nothing. The reality TV star's Halloween celebration acts as another clue Kylie Jenner is pregnant, as it appears to have been a super low-key weekend for the 20-year-old mogul.
Update: On Sunday, Feb. 4, Kylie Jenner confirmed her pregnancy in an Instagram post. She welcomed a daughter on Thursday, Feb. 1.
Earlier: Traditionally, the Kardashians like to go "all out" for Halloween. I use the term loosely, as they usually dress up in some sort of sexy, skin-tight attire akin to what you might see freshmen college girls rocking in the late 2000s. But still, they dress up nonetheless. Last year, Kylie gave us Christina Aguilera circa her "Dirrty" music video, and it was hot, hot, hot. This year, not so much.
All eyes were on the famous family this Halloween weekend, wondering if Kylie would finally give us what we want — her stepping out with her pregnant belly painted like a jack-o'-lantern shouting, "IT'S TRUE, WORLD! HERE'S MY BABY!" Alas, that's not what happened.
Instead, she just posted a series of pretty boring Snapchats hanging out at home with her mom... like, the total opposite of dressing up in a sexy animal costume and partying with ghost-shaped jello shots.
In her snaps, Kylie is seen goofing around with the Kardashian staple puppy filter with her mom, Kris Jenner, while rocking a big, long-sleeved black T-shirt.
Nice try, Jenner, but an animal filter does not make a costume.
She also posted images of her alleged new favorite snack (LIKE A PREGNANCY CRAVING SNACK?!), which looked like puppy chow. Apparently, Kris brought it for her.
Wow. What a lame party, right?
Plus, what's a good Kylie Jenner Snapchat series without some photos of her driving in her car with her hands/legs/nails on the steering wheel? While everyone else was Uber-ing to the closest Halloween party, Kylie was taking pics in her driveway.
She showed fans her super shiny Rolls-Royce from the outside, and snapped her super shiny leather pants on the inside.
Now, I know what you're thinking... "But Jamie, if Kylie's pregnant, how can she possibly fit in those shiny leather pants?" That's a good question, but my guess is money has something to do with it. That, and I don't know any real leather to be that luminescent.
She also shared a photo of her face in the car with the caption, "Sunday."
THE MORAL OF THE STORY IS SHE STAYED HOME IN COMFY CLOTHING TO BE PREGNANT AND HANG OUT IN HER CARS AND AVOID THE CRAZY MADNESS THAT COMES WITH BEING A CELEBRITY ATTENDING EXTREME HOLIDAY-THEMED PARTIES AND THE SOCIETAL PRESSURE THAT COMES WITH IT.
Plus, lest we never forget, Kris Jenner hasn't denied Kylie's pregnancy, which is something she would surely do if it was a false rumor. We know all roads lead back to whatever Kris has to say, because at the end of the day, she actually rules the whole world and would do anything to protect her freakishly symmetrical babies.
Jenner is rumored to be due in February, the same month sister Khloé is reportedly due. It will be one month after Kim has her baby, reportedly via surrogate, and we'll all spend the rest of 2018 monitoring their every move.
Check out the entire Gen Why series and other videos on Facebook and the Bustle app across Apple TV, Roku, and Amazon Fire TV.