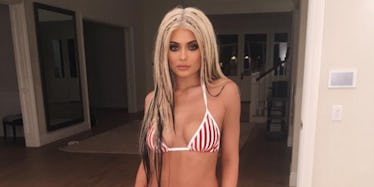 Kylie Jenner's Sexual Christina Aguilera Costume Puts All Others To Shame
Instagram
Shoutout to Kylie Jenner for an epic throwback to the early noughties.
The youngest member of the Kardashian clan dominated Halloween with a costume to end all costumes.
She went as Christina Aguilera in that famous "Dirrty" video, and now we want to redo the weekend so we can pick an outfit to rival this number.
Kylie posted a series of Instagram videos and snaps showcasing her inner Xtina. She wrote,
Can I be XTINA forever.
She went out to the Bootsy Bellows Halloween party in LA with her boyfriend, Tyga, who rocked an all-American look complete with patriotic headband.
Yes to the Christina costume.
So...
...much...
...yes.
The only thing that beats Kylie's outfit this year are these girls who went dressed as her makeup.
Give these guys a hand.
Kylie loved it so much she gave me a shoutout on her Insta. Well deserved, ladies.
Earlier this weekend she hosted an awesome spooky dinner party.
She got dressed up as a sexy dead person (yeah, that's a thing) and went to town on the decorations.
There were skulls and black pumpkins.
And an awesome chair I desperately want in my living room.
But while Kylie's Insta was lit with holiday antics, her big sister Kim maintained her radio silence.
She hasn't posted on her account since she was robbed at gunpoint in her room at the No Address Hotel in Paris.
Masked men threatened her life, gagged and bound her and locked her in the bathroom while they ransacked the place.
They stole jewelry worth millions of dollars. One piece, a cross necklace, was found on a sidewalk near the hotel. It's believed one of the robbers dropped it as they fled the scene.
There are no reports of arrests in connection with the incident.