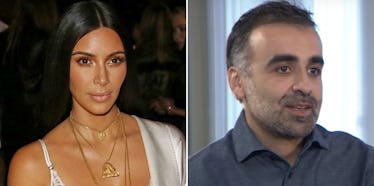 Kim Kardashian's Concierge Said Paris Robbers 'Weren't There For Jewels'
REX/Shutterstock/YouTube
Just before Kim Kardashian was held at gunpoint and robbed of millions of dollars in jewelry in Paris earlier this month, the concierge at the hotel was handcuffed by the assailants and taken upstairs to where Kim was staying.
Now, the concierge named Abdulrahman, who prefers to be mentioned by only his first name for security reasons, is speaking in his first-ever on-camera interview since the robbery.
Abdulrahman claims that the robbers dressed as police who stormed Kim's room weren't initially after jewelry.
He claims that they were after cold, hard cash instead.
The concierge sat down with Entertainment Tonight, recounting the incident, saying,
When she saw police, because they were dressed like police, she didn't understand for a few seconds.
Abdulrahman went on to reveal that there were communication issues between Kim and the robbers since the robbers only spoke French and Kim only spoke English.
She first thought they were looking to steal her phones, according to the concierge. Abdulrahman continued,
[The robber] said, 'I don't need phones' in French, [but] he doesn't understand English, and also she didn't understand French, and the guy was asking for money, money, money. She believed that they were there for her ring. She showed her hand ... there is no ring, and the guy is like, 'Where is the ring?' At the moment she gave him her ring -- it was on a table close to the floor -- she gave her ring to the guy... and he put it in his pocket.
Even after Kim forked over her incredibly pricey ring gifted to her by Kanye West, Abdulrahman said one of the men continued to demand money, adding,
They weren't there for jewels at first, they were there for money. He put the jewels in his [backpack] and he left the bag open, that is why he lost some jewels and the gold in the hotel.
When news first broke regarding the robbery, most people speculated that Kim Kardashian had been targeted after flaunting her expensive jewels on social media.
After hearing Abdulrahman's take on the robbery, they might have had a different motive after all.
As more information continues to surface following the robbery on October 2, the investigation is still ongoing. Still, no arrests have been made.
In the meantime, Kim Kardashian has been spotted around Los Angeles keeping an extremely low profile.
According to Entertainment Tonight, Kim Kardashian was robbed of about $11.2 million in jewelry. Previous reports stated that the jewelry stolen from Kim was worth anywhere from $4 million to $10 million.
While it might seem like the robbers hit the jackpot, jewelry appraiser Joseph DuMouchelle says it'd be extremely hard for them to capitalize on the robbery like most people might expect them to.
DuMouchelle spoke to ET, saying,
These diamonds would be almost impossible to sell. It's not that they couldn't be sold, but they're challenging because of the size, the rarity, and because of the quality. If these come up and they resurface down the road, even if they're recut, there's always a good chance that someone would recognize the fact that they're so unusual that they should be investigated.
Nice try, crooks.
Check out a portion of Abdulrahman's interview with ET below.
Feel better soon, Kim!
Citations: Kim Kardashian Concierge Reveals New Robbery Details: 'They Weren't There for Jewels' (Entertainment Tonight)