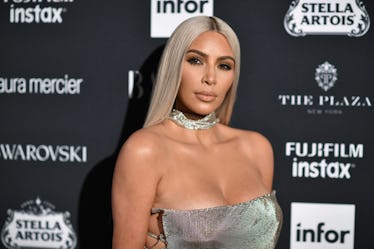 Here's How To Throw A Halloween Party Like Kim Kardashian
Dimitrios Kambouris/Getty Images Entertainment/Getty Images
Kim Kardashian's Halloween parties may be a little more family-centric these days, but that doesn't mean you can't get some top party planning ideas from the mom of two. From costume ideas to themes, snacks, decorations, and drinks, Kim Kardashian Halloween party ideas are definitely a solid jumping off point for your own festivities. Check out some of the ideas you might want to bring to your shindig.
As with any party, planning is key. How big are you thinking? A houseful of friends or a more quiet gathering of besties? Get your guest list sorted before you do anything else to get a better sense of how to plan the décor and ensure you have enough food for everyone.
Next, do you want to have a theme for your party? If you're content with just a general Halloween party, that's totally easy, but maybe you want to request that people dress within a certain theme. Disney characters, '70s, '80s, or '90s decades (remember the Jenner/Kardashian Great Gatsby-themed bash for Kris Jenner's 60th birthday?), movie themes, or spooky/scary are all good options.
Costumes
First let's explore a little throwback to Kim K Halloweens of past: in 2014, she dressed up as a full-body skeleton and Anna Wintour, in 2015, when she was pregnant with Saint, she wore the floral dress she wore to the 2013 Met Ball, and in 2016, she kept it all family friendly with a Princess Jasmine costume to match daughter North's costume (Saint was Aladdin) as well as a purple belly dancer outfit.
And here are the kids. Cute overload:
Food
Aside from planning your costume, let's start with (in my opinion) the most important aspect of any party: food. A party without something to nibble on isn't much of a party (again, my opinion).
Kim K has been posting some recent food-related inspiration that would be a great addition to any Halloween party. First up, the Halloween gingerbread house.
This is genius. She totally turned the idea of a winter holiday gingerbread house on its head and created a haunted house. Swap out the traditional gumdrops with Halloween candies, including candy corn, naturally.
Fans were loving it, with one tweeting: "Adopt me ‪@KimKardashian so we can build Halloween gingerbread houses. I love you mom."
Another fan was pretty impressed with the reality star's creativity, tweeting: "I don't think I've ever seen anyone make Halloween gingerbread houses, thanks Kim Kardashian for this."
Jumping off Kim K's Halloween gingerbread house inspo, why not make gingerbread cookies that look like mummies? So. Cute.
Kim K also created these kooky eyeball cupcakes, which can be funny or even a bit spooky or gross:
Drinks
Back in the day, Kim K dressed as Poison Ivy and attended a Midori themed Halloween party, which got me thinking about how to include the green bevvie in your Halloween plans.
Just a quick Google search and here are a couple of ideas for some tasty drinks:
Midori Halloween Harvest Punch Recipe: juice, rum, Midori, and fruit and it's super simple!
Midori Spider's Kiss Cocktail: Tasty and beautiful!
Decor
What would Kim K do for decor? Well, we know what Kourtney Kardashian did when she threw an epic Halloween party last year, so let's turn to another Kardashian for decorating ideas:
Kourtney went with a black and white theme with streamers, cobwebs, skeletons, candles, spiders, skulls, and gourds. Her treats were totally adorable, with cupcakes decorated as jack o'lanterns, Frankenstein, and spooky faces, chocolate dipped apples, and oreo rice krispie treats to create a skeleton.
Extras
What Kardashian-inspired party is complete without some photo booth fun? If you can't rent this fun idea, you can easily create a photo area with a backdrop and fun props.
HGTV has all the details you need to make this fun party element a reality, so follow their easy photo booth instructions to pull it all together. Pinterest is also a great resource for Halloween photo booth ideas.
Getting In The Spirit
While you're planning your Kim K-inspired Halloween shindig, Kardashian has already hit up the pumpkin patch AND picked out a Christmas tree. Is she really that on the ball with Christmas already?
She explained: "We just started filming our KUWTK Christmas Special! Can't wait for you guys to see this & see what our holiday prep is like!" I'll definitely be taking notes.
Kris Jenner shared a pic from the special on Instagram, explaining: "Oh no big deal... just Ice Skating with @nancyakerrigan in Calabasas in 95 degree heat for our Christmas Special!!!! "
This family certainly knows how to go big for holidays!
Check out the entire Gen Why series and other videos on Facebook and the Bustle app across Apple TV, Roku, and Amazon Fire TV.