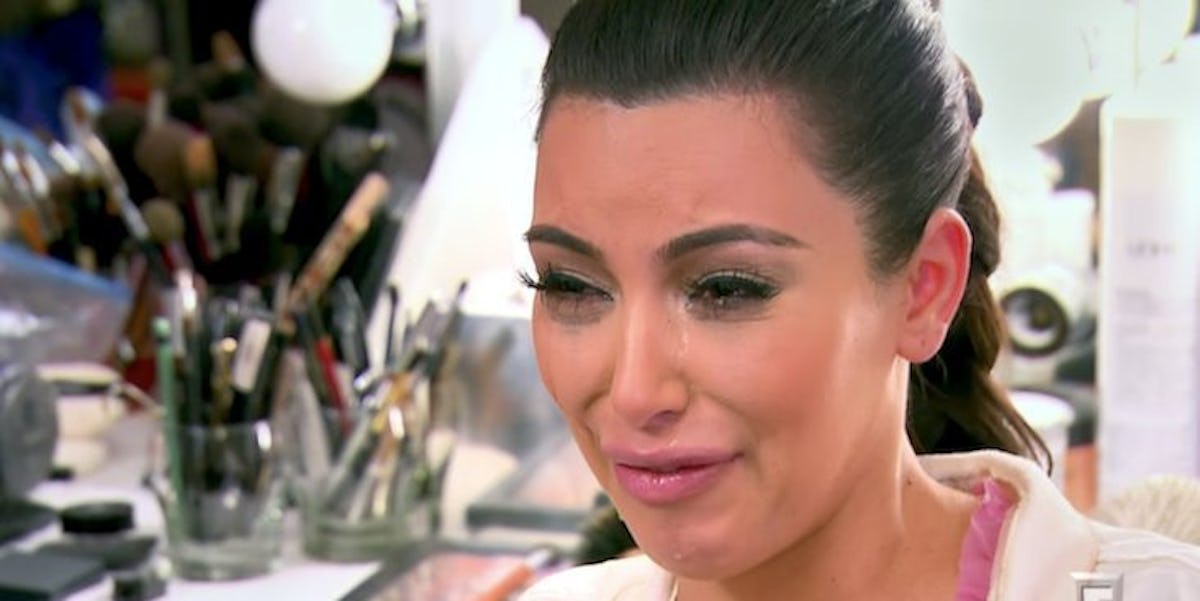 5 Easy Kimoji Halloween Costume Ideas That Won't Spook Your Wallet
Youtube
Hey guys, it's me, one of your many resident Kardashian experts here at Elite Daily. In honor of the impending holiday, we've been wracking our brains to think of some unique spins on Kardashian Halloween costumes to keep you relevant AND unexpected, and we came up with just the solution: Kimojis. Kimojis say "party," they say "trending," they say "soft porn but somehow it's fine, whatever, all of our teenage daughters and sons bought the app and it's on their phones at school, so what?" and we want to help you rock the look. Easy Kimoji Halloween costumes are the perfect way to celebrate the number one commercialized holiday of the year by dressing up as the number one commercialized family on the planet. Kimoji and Halloween are made for one another.
By now you're scrolling on your phone and you're thinking, "There are SO many good Kimoji's to pick from, I don't even know where to start." I know. It's overwhelming. It also depends on how creative you want to be. Sure, anyone can put on a white one piece bathing-suit and go as Kim, wearing a white one-piece bathing suit, but aren't you better than that?
Here, we took five of the top fan favorite Kimoji's and are breaking down how you can easily and affordably rock them to bob for peaches. (GET IT?! Instead of apples I said peaches because of that super graphic peach Kimoji with all the "cream" on it, lord help us. :D)
1. The Thong Butt
Butt Pool Float, $49, Kimoji | Nude Bodysuit, $20, Amazon | Black Thong, $5, Target
Classic-Kim-oji.
The bubble butt wearing a black thong is a go-to fan favorite, and has climbed to fame this summer as a pool float. Here's how you can pull this off.
You'll need: A nude bodysuit like this one from Amazon, a stretchy black thong, two balloons
What you'll do: Pad your butt with the balloons and then throw on that nude bodysuit. Then, once you are "naked" and bubble-butt-y, drop on that black thong, and voilá. You're a graphic butt!
Total cost: You can do this for $30. Just stick to a cheap thong like this one from Target, and peruse Amazon for a bodysuit that matches your skin tone.
Kim's "Ugly" Crying Face
Eyelashes, $26, Sephora | Blue Sharpie, $5, Amazon
If I had to pick, this is my favorite Kimoji of all time. It's also SUPER easy to pull off, as long as you can commit to holding your face like a whaling method actor all night.
You'll need: BIG fake eyelashes like Sephora's Velour lashes, hair tie, blue sharpie
What you'll do: Slick your hair back into a signature tight-AF ponytail. Next, grab some HUGE fake eyelashes and glue them just, like, slightly too low on your eyelid. Last, grab a blue sharpie and draw on that tear drop, Queens.
Total cost: $10-$20
3. Engagement ring middle finger
Costume Ring, $4, Party City
Is there a classier way to tell the whole world to go F itself? This costume is the easiest and most fun to rock all night.
What you'll do: Put a giant fake (or real???) diamond ring on your left ring finger, then flick everyone off all night.
You'll need: A giant-*ss diamond ring. You could pick up a fake like this costume ring from Party City, OR just go buy a blow pop ring.
Total cost: $3-$1,000,000, depending on your diamond ring's quality
4. Censor Bar Kim
Nude Bodysuit, $20, Amazon | Platinum Blonde Wig, $31, eBay | Black Duct Tape, $8, Amazon | Black Construction Paper, $5, Amazon
This one is fun because it doubles as a Kimoji and just Kim herself. Based on that famous selfie she took on Instagram with the caption, "When you're like I have nothing to wear LOL," you'll be sure to turn heads.
You'll need: Nude bodysuit, black construction paper, a platinum blonde, medium-length wig like this one found on eBay, and duh... you're iPhone.
What you'll do: Remember that nude bodysuit from before? COMES IN HANDY. Suit up. Next, grab yourself either some black duck tape or cut out black rectangles from construction paper to use as your censor bars. Lastly, grab a good old platinum wig. Don't forget your phone!
Total cost: Close to $50, but so, so worth it.
5. Halloween of Kim's Past (Skeleton)
Skeleton Bodysuit, $40, Party City
This is for the low-key Kimoji user who wants to dress up for Halloween but not necessarily flat-out give away what (or who) they're really going as. Kim loves Halloween, and famously dressed up in a skin-tight skeleton suit back in the day, and YOU. CAN. TOO. America.
You'll need: A skeleton body suit, and honestly I'm buying this one from Party City, like, as we speak.
What you'll do: Suit up and haunt on.
Total cost: $40, give or take.
Happy Hallow-oji!
Check out the entire Gen Why series and other videos on Facebook and the Bustle app across Apple TV, Roku, and Amazon Fire TV.