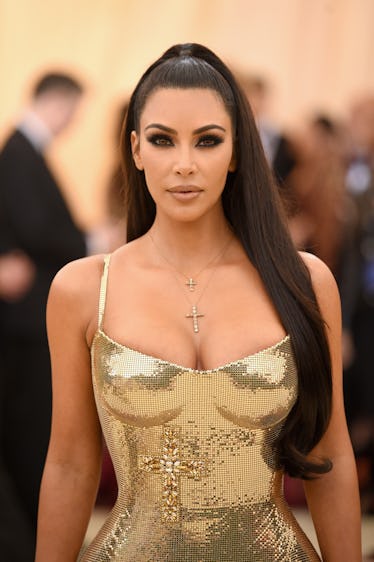 Kim K Debuted New Blue-Black Hair For Yeezy Season 8 & It's Oh-So-Sleek
Jason Kempin/Getty Images Entertainment/Getty Images
Seeing Kim Kardashian West's name in the news happens more often than ever, but recently, it's been for different reasons than we're used to, given her recent meetings with President Donald Trump on behalf of Alice Marie Johnson. Today, however, she returns to her (not-so-natural) roots by making beauty news with her hair. Seriously, Kim K's new blue-black hair color is oh-so-sleek, but unless you're up close, you might miss it because it's relatively subtle.
In a departure from the recent news surrounding the reality star's visit to the White House that resulted in President Trump granting Alice Marie Johnson clemency, Kim K is now back on the West Coast and gracing our feeds with her new tresses. Kardashian's longtime colorist Chris Appleton revealed the dark blue hue in two new Instagram posts, where Kardashian appears to be wearing looks from the Yeezy Season 8 collection. In Appleton's first post debuting the new, almost-violet mane, Kardashian is seen wearing thigh-high, navy blue, heeled boots, high-waisted blue leggings, and an equally-as-tight, long-sleeve, blue crop top. In the pic, she paired her waist-length waves with an entirely blue ensemble, and the image itself seems to have a slight blue filter layered over it, so it would be easy (for the untrained eye) to completely miss the new hair color and assume that she was still rocking her natural brunette shade.
That is, however, until you lay your eyes on Appleton's next image where Kardashian is seen wearing an orange look from Yeezy Season 8 that really makes her new blue tresses pop. In the second image, she pairs her center-part, blue-black hair with burnt orange sock boots, bright orange cargo pants, and a neon orange sweatshirt. Looks like it's pretty clear Kanye West is continuing the monochromatic theme through his eighth Yeezy collection.
Appleton's work on Kardashian is nothing new. In fact, the stylist is the man responsible for taking Kim K from dark brown to bleach blonde, and back again for the past year or so. He is even responsible for Kim's pink hair moment that we saw earlier this year. But this blueish hue — no matter how subtle — is one I personally just didn't see coming, but am loving nonetheless.
If I'm being honest, I've been using Kardashian's recent hair changes as inspiration for my own pending hair transformation. (But let's be honest, given my fear of change, it probably won't happen). I, like Kardashian, have waist-grazing, naturally dark hair that I would love to transition into an icy blonde shade. At first, I wondered how the star could go from dark to light so often, so quickly, and still manage to have (seemingly) healthy hair on her head. Well, according to Appleton, it's technically not that fast. According to the stylist, Kardashian's dark-to-light transformation took about 13 hours. Still, though, the whole process is completed in one salon visit.
Most recently, though, Kardashian had been sporting her more natural, dark brown hair color. Was her quick transition back to the brown hair she had at the Met Gala just done out of preparation for her latest, even darker color? Possibly. Regardless, we can't say we weren't warned that there would be a hair change for Kardashian on the horizon. Right before Appleton posted Kardashian's new blue hue, he posted an image of Kylie and Kim, both with dark brown hair, with the caption "Something is coming..." Was that foreshadowing of this sleek blue-black look? Who knows.
Now, with the big reveal behind us, I can't help but wonder if the look is here to stay, or if it's just a stint for Yeezy Season 8? Either way, I am very into the new blue 'do and welcome the idea of Kylie handing the reigns over to Kim as the newest Kardashian-Jenner hair chameleon.