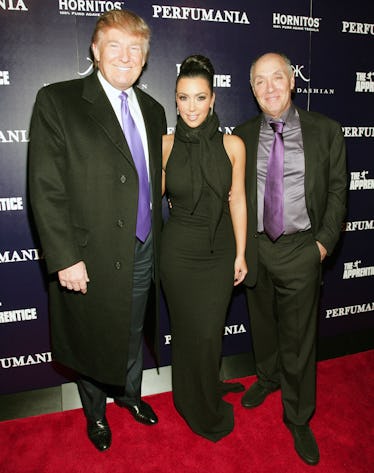 Trump Granted Alice Marie Johnson Clemency, So I Guess Kim K Got To Him
John W. Ferguson/Getty Images Entertainment/Getty Images
Kim Kardashian: Reality icon and... diplomat? The Keeping Up with the Kardashians star could have a career in politics in her future, because Donald Trump granted Alice Marie Johnson clemency after Kardashian's White House visit — and I'm shook.
Just days after the social media mogul headed to the White House to make her case for Johnson — a 63-year-old great-grandmother who received a life-long prison verdict for a first-time drug offense — White House officials have said that President Trump has decided to commute her sentence.
In 1997, The Tennessean reported that Johnson was sentenced to a life in prison without parole after being involved in a multimillion dollar cocaine drug ring. In 2016, Johnson spoke out in a co-ep for CNN. She said,
I want this part to be clear: I acknowledge that I have done wrong. I made the biggest mistake of my life to make ends meet and got involved with people selling drugs. This was a road I never dreamed of venturing down. I became what is called a telephone mule, passing messages between the distributors and sellers. I participated in a drug conspiracy and I was wrong.
Johnson, who has now served over 21 years of her sentence, first caught Kardashian West's attention when Mic shared an October 2017 video highlighting the situation. The grandmother claims she got involved in aiding the Memphis, Tennessee-based drug circle "to make ends meet" after losing her job and her son in a motorcycle accident, according to a June 6, 2018 op-ed she penned for CNN. Referring to her role as a "telephone mule," Johnson said she never handled drugs or arranged any of the deals. While Johnson has had a spotless record in prison and the nonviolent drug conviction is her first offense, she reportedly was ineligible for parole because she was sentenced by a federal court.
Her plight spoke to Kim K, who decided to champion Johnson's cause and push for prison reform on — you guessed it — social media. She even hired her own lawyer, Shawn Holley, to get involved in the case, according to New York Daily News.
Kardashian had an unlikely ally in Jared Kushner, aka Ivanka Trump's husband, who also has an interest in alleviating the country's mass incarceration problem. And on May 30, the reality TV mainstay was granted an audience to the White House so she could plead her case to President Trump. Shortly after the slightly cringe-worthy meeting that quickly went viral because of an awkward photo-op, the mom of three was back on social media to raise awareness.
She took to Twitter to thank the president on his social media platform of choice, before filming an in-depth interview with Mic.
"I just really strongly believe that she is someone that has completely rehabilitated herself and will continue to do so outside of prison," Kardashian said during her interview, pointing out the 63-year-old's stellar record while serving in prison. "You know, she's done her time."
While it was anyone's guess if President Trump would take the plea seriously, it looks like Kim K got to him in the end. Only a few days later, on June 6, it was confirmed that Johnson's sentence would be commuted. Kardashian West took to Twitter to share the announcement herself, and now, the Twitterverse is seriously starting to wonder if she's the diplomat we never knew we needed.
Honestly, though, could 2018 get any more confusing?
While the reality star seems like an unlikely choice to play lawyer, maybe it's not so surprising after all, considering President Trump's track record with celebrities. According to CNN, POTUS previously pardoned former heavyweight boxing champion Jack Johnson posthumously after Sylvester Stallone advocated for it. Trump also reportedly said that he's considering doing the same for Martha Stewart and former Illinois Governor, Rod Blagojevich. So maybe a little star power doesn't hurt in this case, after all.