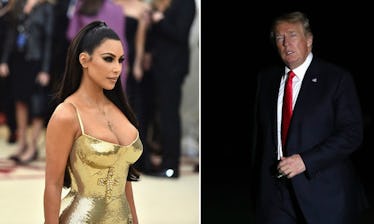 This Photo Of Kim Kardashian & Donald Trump At The White House Has Me Cringing
THEO WARGO/MARK WILSON/GETTY IMAGES
Let's be honest, a lot of us thought that Kim Kardashian's meeting with President Donald Trump was gonna be super awkward. Like, honestly, I could not imagine the two of them sitting down to discuss a serious topic like prison reform. (Or any topic, for that matter.) But it happened, and on May 30, the photo of Kim Kardashian and Donald Trump at their meeting was posted online. And TBH it's even more cringeworthy than I initially expected.
Kardashian reportedly headed to the White House to ask Trump to pardon Alice Marie Johnson, a 63-year-old woman who is serving a life sentence in federal prison for a drug-related crime. The reality star has been pushing for Johnson's release over the past few months after hearing her story in a documentary produced by Mic, which also highlighted Johnson's attempts to earn a presidential pardon over the years. There's no word on what came of Kardashian's meeting with Trump as of yet, but the president did, however, take to Twitter to express his feelings about their exchange. He captioned a pic of himself and the beauty mogul in the Oval Office, "Great meeting with @KimKardashian today, talked about prison reform and sentencing."
It's hard to read what's going on here, you guys. I don't know if Trump's smile means that he's open to the possibly of helping Johnson, or if Kardashian's blank stare means she's exhausted and over their encounter. I know she hates sunken place references, but that's totally the vibe I'm getting from her in this pic.
Twitter users also fired out a ton of jokes about her meeting with Trump.
All jokes aside, the meeting is incredibly special because — in addition it being an effort to get Johnson's harsh sentence pardoned — it's also her birthday. Earlier in the day on May 30, Kardashian even tweeted a sweet celebratory message in honor of the 63-year-old, writing, "Happy Birthday Alice Marie Johnson. Today is for you."
Johnson landed on the reality star's radar back in 2017 after Mic released a video that detailed the crime that landed her in jail, her time in prison (21 years to date, to be exact), and her efforts to have her sentence pardoned. According Johnson, she was a first-time, nonviolent drug offender who was sentenced to life in prison without the possibility of parole for her part in a "drug conspiracy."
"I had been in management for 10 years," Johnson explains in the video. "When I lost my job, I struggled financially. I couldn't find a job fast enough to take care of my family. I felt like a failure. I went into a complete panic. And out of desperation, I made one of the worst decisions of my life to make some quick money."
As her case attracted increasing amounts of attention, Johnson had hoped that she would be one of the 200-plus prisoners who were granted clemency in December 2016, during President Barack Obama's last few days in office. And although she wasn't, she appeared to be optimistic about her future in an op-ed for CNN, which she penned on Dec. 28, 2016.
"During my two decades in here, I've become an ordained minister and a mentor to young women who are also in prison," Johnson wrote. "And if I get out — I have a job secured, and plan to continue to help those in prison and work hard to change our justice system."
Although Kardashian isn't the most qualified person to tackle Johnson's case, she's at least influential enough to get it the attention it deserves, including Trump's own ear. And I'll always clap for stuff like that.