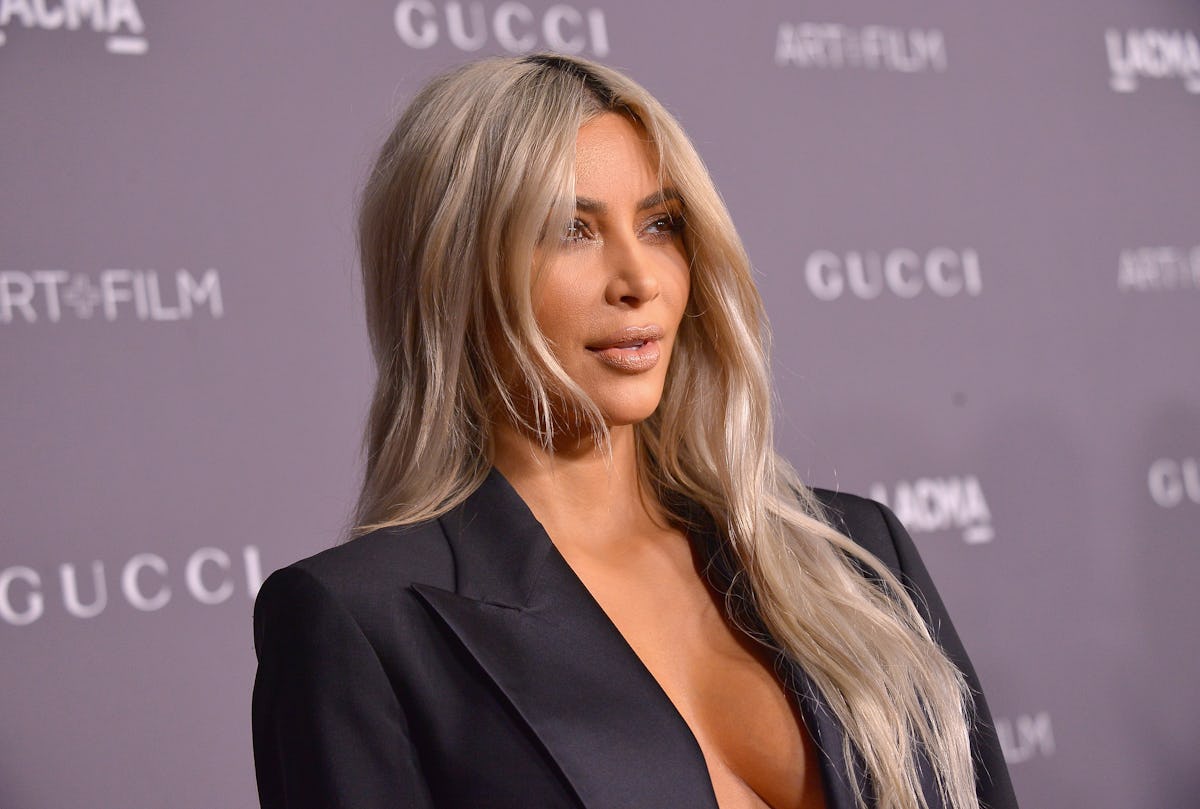 Kim Kardashian Got Another Haircut & You're Going To Want To Copy It ASAP – PHOTO
Charley Gallay/Getty Images Entertainment/Getty Images
Another day, another Kardashian hairstyle for us to obsess over. As if Kim wasn't serving us "extra" enough already, she's upped her game (and hairline) again. A new photo of Kim Kardashian's haircut will remind you there is nothing this woman can't rock, including a platinum bob.
It seems like just a week ago (because it was) that Kardashian chopped her notorious long locks for a ~*~lob~*~ and now she's gone even shorter. This cut comes after her previous transformation from brunette babe to blonde bombshell earlier this fall. And of course, we've been here once before.
If you guys recall, in 2015, Kardashian first debuted a fierce, blonde look at Paris Fashion Week causing the internet to fully freak out. At the time, switching up her famous Kardashian unicorn hair was the biggest f*cking deal, and we all totally lost it. However, the entire family has become super akin to keeping us on our haircut toes. For example, Khloé loves a voluminous bob, Kylie is the queen of wigs, Kendall is a true model-chameleon, and Kourtney, well, Kourtney pretty much sticks to one look... but she recently shortened it up.
And it's all been leading us to Kim's shoulder-length silver crop.
Kardashian showed it off the best way she knows how — through a filter.
She jumped on Snapchat and asked fans, "I cut my hair even shorter today. Do we like it or is it too short?"
Obviously we like it, Kim. But also, you pay a whole team probably really awesome money to make sure you look bomb AF.
Kardashian's hairstylist, Chris Appleton, had the honor of transforming our main girl, and shared this message on her app and website:
Kim and I love to change up her hair game. We have had so much fun with the long wave and felt that it was time to add a new look. We decided to go for the chop. I wanted to create a sleek and chic vibe. This was a super angled blunt cut that complemented Kim's face and jawline from all angles.
Right. Duh, duh, duh.
While the new look is exciting, and fun, and sassy, and all the things, it's still hard for Kardashian to shock us after such a transformative year for the reality TV star in general.
With an entirely new Instagram filter look, an endless wardrobe of Yeezy's latest collection, the flip-flopping of her iconic hair, and the release of her KKW Beauty products, it kind of feels like we're given a "new" Kim every day.
Here's a quick look back at some of the things I'm talking about.
The Makeup
The Outfits
The Hair
Yup, that's all the same person. This girl, in fact.
Ah, what a simpler time.
Kardashian confessed during an interview with Insider that even she has fashion regrets. Particularly, she cites the years 2007 to 2012 as her worst.
She said, "I definitely have style regrets. I mean, I wear some things and I'm just like, 'Why did I wear that?'"
Most specifically, the modest 5'3" mom of three says getting rid of her platform high heels was the biggest hurdle for her in her fashion history.
That was the hardest thing for me, to transform from wearing a platform to no platform at all. I would literally wear the triple platform heels that were super crazy. I remember the Louboutin Daffodiles — like the really tall ones. I was obsessed with them, I had them in every color, everything.
Hmm... we wonder how she'll feel about her platinum days down the road.
Check out the entire Gen Why series and other videos on Facebook and the Bustle app across Apple TV, Roku, and Amazon Fire TV.