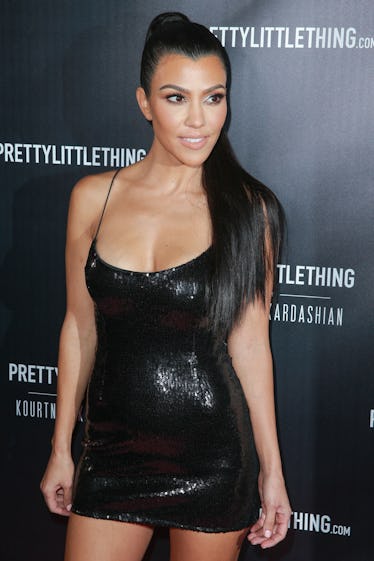 Kourtney Kardashian Has A Lob Now & She Looks So, So Different – PHOTO
Rich Fury/Getty Images Entertainment/Getty Images
I'm not going to say that the most famous thing about the Kardashians is their magical flowing hair because that would be a flat out lie, but I will say it's like, one of their top 10 most notable assets. I follow the ins and outs of each sister's hair choice more than I follow the weather. (That's saying a lot because I have to go outside at least once a week, you guys.) You can imagine what kind of tailspin Kourtney Kardashian's haircut threw me into because I'm still recovering.
First of all, welcome back to life, Kourtney Kardashian! The mother of three and ex to longtime party boy Scott Disick has really had a revival this past year. We love to see her out and about, taking chances and doing anything besides eating organic and gluten-free foods since that was basically her main thing for a while.
Now she's dating smokin' hot 24-year-old model Younes Bendjima, taking a break from being the pregnant sister, and chopping off her signature long, straight hair.
In a sexy bathroom selfie on Instagram, Kardashian showed off her new, long bob (aka a lob).
She weirdly captioned the photo, "Don't worry, I ordered a new phone case last night."
I WASN'T WORRIED, KOURTNEY, BUT NOW I'M WONDERING IF I WAS SUPPOSED TO BE???
Presumably, she was making a joke about her Kimoji phone case. At the same time, she knows she's debuting a totally new look, so she should be giving us more insight. What were you thinking when you made the chop, Kourt? What was the inspiration? What products do you use to make it all piece-y like that? Dear god, do you regret it? INQUIRING MINDS NEEDS TO KNOW!
My true guess is she probably doesn't have as many feelings about her new look as I do because she knows she can just buy new extensions tomorrow. But still.
It reminds me of when her sister Khloé swapped in her voluminous long locks for an edgy, textured lob that quickly became my ultimate #hairgoals.
Klo-Money has since gone in the opposite direction as Kourtney, growing her hair out long and dying it brown again. Coincidentally, she's also rumored to be pregnant, which is usually Kourtney's thing. What is it, Opposite Day for these two sisters?
Kourtney's big hair change comes around the same time as the launch of her new clothing collection with PrettyLittleThing, which seems to feature fancy lingerie-like dresses and tight, strappy, leather pieces. As hot as they are, they look like a puzzle to put on.
The PrettyLittleThing website described the clothing like this:
Queen Kourtney leads us into party season with the ultimate high voltage dance floor dresses and disco inspired pieces made for after dark. Own the night in sultry satin pieces infused with intricate lace detailing. Go big for heavy metal with all over sequins as disco aesthetics and show some skin in barely there mini lengths and pieces featuring killer cut outs for the fashion brave only. Consider these pieces the party icons you need to rack up all the likes. This collection is better than breaking the internet, it's breaking your style goals. Bible.
Bible. Ah, there she is. That's the Kourtney we know and love.
Kourt stepped out at the launch party for her line while rocking a mini black dress from her collection and pairing it with her slick, straight, high-ponytail.
Long or short, straight or wavy, you have the jawbone of a Roman sculpture and the calves of a professional tennis player, Kourtney.
Check out the entire Gen Why series and other videos on Facebook and the Bustle app across Apple TV, Roku, and Amazon Fire TV.