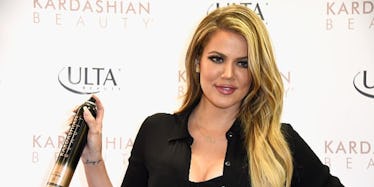 Khloé Kardashian Dyed Her Hair Back To Brown, So It's Officially 2008 Again
Getty Images/Frazer Harrison
Attention, world! There is a shocking celeb hair change alert! Khloé Kardashian's brown hair is back! All I can say is... it's about freakin' time. The reality star and business mogul has rocked blonde hair for the last three years but not anymore! Say goodbye to the bleach, Kardashian fans, because the OG Khloé is baaaack.
The media is calling this new look "bronde," which is a stylish new name for blondish-brownish hair. Why hasn't that been a thing since... forever? Khloé was spotted with her new 'do wearing a black dress on a date with boyfriend Tristan Thompson over the weekend.
The star's famous colorist, Tracey Cunningham, told PeopleStyle, "I call this natural, sun-kissed hair. She beats to her own drum. It's high summer Khloé chooses to get away from the summer light blonde she was wearing recently."
Cunningham also said, "Khloé is never afraid to change things up. She just wanted to get away from her blonde color — change it up a bit."
The Hollywood colorist mentioned Khloé knew exactly what she wanted. "She's considered the change for a few months now. It was a matter of timing. Earlier this week [when we were both in L.A.], we said, 'Let's do it!' So I went to her house and we changed it up."
Khloé, being the super fashionable celeb she is, isn't one to shy away from new hairstyles. In 2013, the reality star began her transitional blondish look with a golden brown ombre. That's when her evolving blonde look began. Oh, how time flies when you're having fun... with your hair.
Now that Khloé has stunned the world again, this time with "bronde" hair, we can all sit back, relax, and watch literally every hip chick copy her look. I'm already on my way to the salon as we speak. It's official, brondes have more fun.