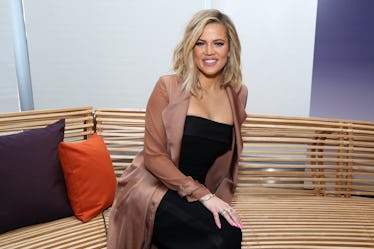 Khloé Kardashian Teases "Some News" & Fans Can't Handle It
Cindy Ord/Getty Images Entertainment/Getty Images
A rumor that's been months in the making might finally get clarified tonight on Keeping Up With The Kardashians. Ahead of Nov. 12th's episode, Khloé Kardashian teased pregnancy rumors on Instagram. While fans have been wondering for some time if the youngest Kardashian sister is pregnant, the post put them into total freakout mode.
On Sept. 26, rumors broke that Kardashian and her boyfriend Tristan Thompson are expecting their first child together. In true Kardashian style, the Good American founder has stayed mum on the topic. That is, unless her Instagram post is a major hint about it.
In the tease, she posted the caption "Tonight on #KUWTK @kuwtk," with a clip of her telling Kim and Kourtney "well I have some news." When Kim and Kourtney ask her what it is, she stays true to form. "Guess who's coming home, kids!?"
Way to play up the suspense, Khloé.
Fans immediately began speculating about the post. "Every time ANY one of y'all have news it's that somebody pregnant! What's the news Khlo," kxrdashsource asked. Given that older sister Kim moved back in with mom Kris Jenner when she was pregnant, it wouldn't be a stretch to presume that Khloé might be coming home for that reason.
But others were quick to dispel the rumor. "I've already seen this episode!! She is staying in LA for the summer," madifanning, who apparently had access to the episode before it airs, wrote.
Kardashian's effort to tease fans about a possible baby didn't just extend to her Instagram account. On Nov. 11 she posted another cryptic message on her Twitter account about "tea for baby number 3." Though she was attending sister Kim's cherry blossom-themed baby shower for her third child, reportedly due via surrogate, that didn't stop fans from congratulating Khloé in the comments.
In their defense, baby number three could also have been a cryptic reference to Khloé herself, since she's the third child of Kris Jenner and Robert Kardashian. But, okay, it's reaching.
KUWTK has documented Kardashian's desire to start her own family and she's been open about her struggles with fertility. In an interview with People in 2013, Khloé was quite forthcoming about trying to start a family. "It was hard for me to understand what was happening because my mom had six kids and Kourtney got pregnant quickly. People assume I'm desperate for a baby. And yes, I would love to have a baby," she told the magazine.
When the news first broke that Khloé was pregnant (though she didn't confirm it), Thompson posted a rather suggestive tweet. He posted two eye emojis on Sept. 26, which made fans speculate that the couple was either expecting a child or that the news was false — and a surprise at that.
The past few months, of course, have had fans of the entire Kardashian-Jenner clan on baby watch. In addition to rumors about Khloé, in September it was reported that youngest sister Kylie Jenner is also expecting a child with boyfriend Travis Scott. Over the weekend, fans speculated if her Snapchats showing her pink nails and longing for pink hair were a hint that she's having a baby girl. There were also rumors that big sis Kourtney Kardashian was pregnant with her fourth baby. But besides Kim, none of the sisters have confirmed whether they're expecting.
Ugh. The suspense is almost too much to take in.
Given that the Kardashians clearly know what they're doing when it comes to using their platforms to generate excitement, it's likely that they'll wait until an episode of their show to give fans all of the impending baby news.
If they don't give the goods on Nov. 12th's episode, then fans might be in for the long haul to find out.