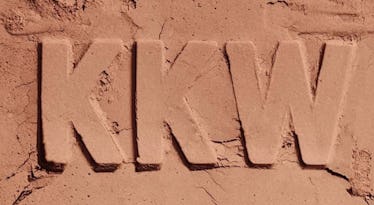 KKW Beauty Black Friday 2017 Sales Mean Us Peasants Can Kontour Like A Kardashian
In another episode of IRL Keeping Up With The Kardashians and their numerous beauty launches and teasers, the rumored KKW Beauty Black Friday 2017 deals will have you contouring like a Calabasas kween in no time — even if you're marginally broke. If you held back from the initial release of Kim Kardashian West's contour kits due to a lack of cash flow (like myself), or you're looking to replenish your KKW Beauty contouring supply, the deals on the brand's crème and powder kits will have you crying like North West at a Balmain fashion show (but for good reasons, of course).
This year, KKW Beauty will see some competition in the form of friendly sibling rivalry, because Kylie Jenner is launching her holiday collection on Nov. 22. But that shouldn't take any steam away from big sis Kim, who is making a splash on the Black Friday sale circuit. According to Refinery29, KKW Beauty will offer 20 percent off the Crème Contour Kit ($48; kkwbeauty.com) and 30 percent off the Powder Contour Kit ($52; kkwbeauty.com). Not too shabby.
If dropping $48 on Kardashian West's dual-ended contour stick and novel brush/blender tool didn't float your boat in the past five months, then maybe snagging the set for $39 will. After all, fans of Kimmy, including her famous makeup artist Mario Dedivanovic, seem to really love the kit.
If you're more of a powder (puff) girl then a crème queen, then get your hands on the Powder Contour Kit for a mere $37. This fan loved the Powder Contour Kit so much, she just had to send out a tweet to thank her mom for it. That's some heart-warming social media action, y'all.
This happy customer demonstrates the proof of the powder power is in the pudding. Just look at her sculpted face!
Some believe the true test of great makeup is whether or not your significant other notices how extra snatched you look. Clearly, KKW Beauty passes with flying colors for this user.
If you want your contour to be approved by the contouring trend kween Kim Kardashian, then hop on your computer and enter those credit card numbers faster than you can say, "Kim, would you stop taking pictures of yourself? Your sister's going to jail." We all know that Kardashian makeup sells out in mere minutes. After all, even the recent KKW Fragrances immediately sold out immediately after their launch. Here's hoping Kardashian West restocks her scents just in time for Black Friday!
If she does, you might want to pick up the new KKW Fragrance with all the money you're saving by purchasing your discounted contour kits. After all, Twitter has been, well, all atweet over how fresh her new fragrances smell.
This Twitter user thinks her new KKW Beauty fragrance smells so good that it merited not only caps, but six exclamation points!
Another Twitter user questions existence before Crystal Gardenia.
And this woman's boyfriend definitely knew what was up when it came to the KKW fragrance release.
Kardashians for the win, amiright?
Maybe Black Friday will also bring more details on this cryptic post shared by the KKW Beauty account.
Some fans think this means a new highlighter is on the horizon, while others think it might be eyeshadow. There's no doubt Kardashian West and the rest of the KKW Beauty team will keep us guessing for as long as they possibly can. After all, Kardashians are famously known for neither confirming nor denying rumors, among other things. Only time will tell what this product will be and when we can expect it to be released, but history says it will be fabulous.
If you want to stay alert and aware of the KKW Beauty Black Friday 2017 deals, be sure to subscribe to the KKW Beauty email list for notifications and updates. According to the brand's most recent Instagram post, when you sign up for the email list, you get a sneak peek of their Black Friday deals. Of course I did, and I've hit refresh every five minutes since. After all, it's the best way to keep up with this Kardashian.