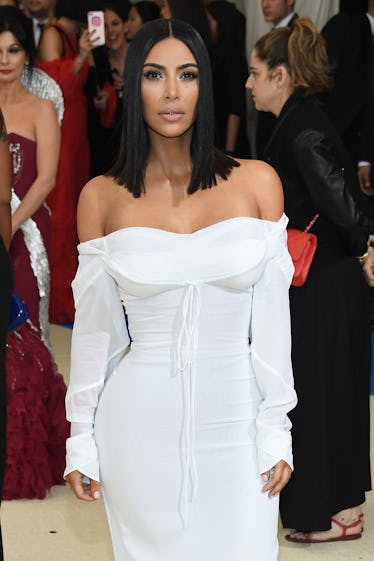 Kim Kardashian Showed Up At The Met Gala & Everyone Said "Kendall Who?"
Dia Dipasupil/Getty Images Entertainment/Getty Images
Kim Kardashian has been a fixture at the Met Gala since 2013 and she's always got something up her sleeve for the red carpet. Over the years, she's wowed the cameras with a wide array of looks for the fashion world to fawn over. And sometimes her fashion choices have even become memes. But Kardashian has been a little more low key as of late, so it's exciting to see her do something different. This year, Kardashian's choice of dress and designer is super interesting — mostly for how simple it was and how absolutely amazing she looked. And these tweets about Kim Kardashian at the 2018 Met Gala are proving that only one Kardashian-Jenner sister can rein supreme.
Kardashian showed up in a skintight gold lamé Versace dress that looked like it had been painted on. With a simple spaghetti-strap neckline and two embellished crucifixes, she looked like a golden icon come to life. Though her husband, Kanye West, didn't accompany her, she wasn't entirely alone. Her two younger sisters, Kylie and Kendall Jenner, were also in attendance — but it's probably for the best that they all posed separately, because man, I would not want to be the one standing next to Kim Kardashian when she looks this great.
And on social media, people were falling in love all over again. Kendall and Kylie who.....?
The theme of the night was "Heavenly Bodies: Fashion and the Catholic Imagination," and Kim definitely got the "heavenly body" part of the invitation.
The all-gold, all-slay look was back to form for Kim. At the 2017 Met Gala, Kardashian pared down her usual flashy style, which really exemplified her emotional transformation since she endured that traumatic robbery in Paris in 2016. While Kardashian has always been into high fashion, she's started to take things down a notch since the attack. And she has been very open about becoming less materialistic:
It was probably no secret, you see it on the show ... I was definitely materialistic before. Not that there's anything bad with having things and working hard to get those things ... but I'm so happy that my kids get this me, and that this is who I am raising my kids, because I really don't care about that stuff anymore.
More recently, Kardashian's been in the news for some comments she made regarding Tristan Thompson and the cheating scandal involving her sister Khloé. While Kardashian had been completely silent about the matter, she finally broke her silence during an interview with Ellen DeGeneres:
Poor Khloé. Like, I don't even know how to describe it besides it's just so f*cked up.
So true and so, so sad.
Kardashian has also done what some might call "damage control" when it comes to her husband, Kanye West. In April, West re-activated his Twitter account and started a few of his famous tweet storms that included him announcing his love for Donald Trump and calling his home "the sunken place." Kardashian told Ellen,
I mean, I hear him say all of these things in the house, just about... I think what he was saying about, really, the "everything," he was talking about clarity. He always talks about how we should not have our phones first thing in the morning, and in the house when we're with the kids, let's not have our phones. It's our rule that we really try to live by, so I think he was talking about cleansing.
Mmhm. Got it. Kanye wasn't next to Kim's side at the Met Gala this year, so I guess he's getting real about the whole "cleansing" thing. Or maybe he just didn't want to be the one standing next to his wife when she looked that good. I can't blame him. We are all nothing, compared to Kim.