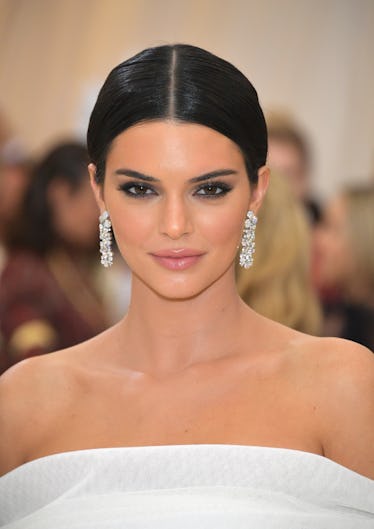 Twitter Is Comparing Kendall Jenner's Met Gala Look To Toilet Paper & TBH, I Can See It
Neilson Barnard/Getty Images Entertainment/Getty Images
There are few things in this world that are more ogle-worthy than the Met Gala red carpet. It's glitz, it's glam, it's kitsch, and most importantly, it's always extra AF, but in the best way. Who doesn't love watching our favorite celebs pull out all the stops for the red carpet? And one of our favorite show-stoppers definitely, uh, brought it again. Jenner's look at the Met Gala is not on theme, who cares? Obviously, Twitter does. The second she showed up on the carpet, tweets about Kendall Jenner's 2018 Met Gala look totally, um... exploded. And it doesn't take a genius to figure out why.
Jenner showed up on that Met Gala 2018 red carpet in what fans felt was a bit of an underwhelming outfit for the event. She was sporting some skin-tight white pants that had little trains at the end of them for some reason? Her top had this off-the-shoulder drapery that I am totally here for.
Leading up to the May 7, 2018 Met Gala, Jenner took to her Instagram on May 2 to share a set of throwback photos from last year's gala. The first pic shows Jenner and sister Kylie Jenner throwing up middle fingers while Jenner makes a kissy face. The second is a little less sassy and pictures the sisters posing elegantly while smiling at each other. It's actually pretty sweet and adorable. The photo is captioned, "Met! almost time." She looked great on the 2018 red carpet, but nothing compared to last year. It wasn't anything special, really. Especially thrown up against last year's shocker.
Some Twitter folks couldn't help but notice this one glaring thing about Jenner's look, and they all pointed it out: Twitter thought that Kendall's pants-and-top combo looked a little like toilet paper.
Poor, poor Jenner. She had so much to live up to, and instead, it's all down the drain (I couldn't help myself).
It's pretty hard to forget Jenner's 2017 Met Gala outfit. The model floored everyone when she rolled up in a completely sheer gown that was a total stunner. The dress was pretty much just a toga of crystals — 85,000 crystals to be exact, according to E!. It kind of reminds me of the Limited Too curtains I had hanging over my closet door, and I love it.
She also somehow managed to bring back the whale tail and make it look glamorous? I don't know how the Kardashians/Jenners do anything they do, so I will just chalk this up to another mystery of the universe that will never be solved.
Just in case you somehow forgot how Jenner totally slayed that 2017 Met gala red carpet, let me refresh your memory with some glam shots:
If you thought the only skin was in the back, you were totally wrong. It's a party in the back and a party in the front, because that's the only way to do it, really.
Now let's take a moment to transport ourselves to a film noir. It's my favorite shot of the bunch, because in my head, all Hollywood shindigs are in black and white and everyone talks like a 1940s private investigator.
When 2018 started off people might have suspected to see Jenner at the 2018 Met Gala with basketball player Blake Griffin, as the two were first rumored to be dating in 2017, but neither ever confirmed the relationship.
Fans didn't hear much about the couple, but apparently Jenner and Griffin have cooled off without anyone really knowing. According to People, the couple was spotted at an April 14 Coachella party. A source said, however, that the two arrived separately and were not spotted together at all throughout the event. The source said that Griffin "walked past Jenner's table as she stared at him, and she then turned to whisper something to a friend. Beyond that, it didn't appear that the two made contact at the party."
That does not sound like two people who are dating. I mean, that sounds like some major drama went on and things did not end on good terms, right? It was reported that maybe the couple cooled off a bit after Griffin was traded from the Los Angeles Clippers to the Detroit Pistons. But a source told People that despite "cooling off" the couple wasn't ready to call the whole thing off. Well, it looks like that changed. Judging by that reported Coachella run-in, things haven't just "cooled off," they've frozen over.
Jenner, you don't need a man, and definitely not one who walks by a table and doesn't acknowledge your glamorous presence. Byeeee boy. And girl, keep looking fabulous.