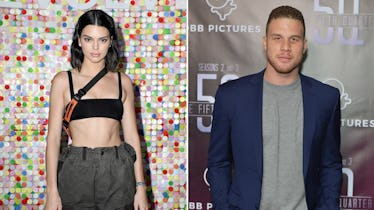 Kendall Jenner Reportedly Avoided Blake Griffin At A Coachella Party, So That's Awkward
Roger Kisby/Neilson Barnard/Getty Images Entertainment/Getty Images
Is it just me, or is Kendall Jenner the most quiet and least-suspecting Kardashian? She stays relatively out of the spotlight, she's low-key when it comes to social media, and she doesn't show off her relationships all that publicly. Round of applause for Kendall, everyone. And up until recently, Jenner was reportedly dating Blake Griffin (a basketball player who got traded from the Los Angeles Clippers to the Detroit Pistons), with not that much drama. But now, reports that the pair avoided each other completely at a Coachella party might show the world that the two might not be dating anymore. So, are Kendall Jenner and Blake Griffin still together? Here's what we know so far.
According to People, a source said that on Saturday, April 14, both Jenner and Griffin attended a Coachella party, thrown by Bootsy Bellows and McDonald's, separately — with Griffin arriving first, and Jenner arriving solo (but with some security guards, natch) after.
According to the source, Griffin "walked past Jenner's table as she stared at him, and she then turned to whisper something to a friend," adding that "Beyond that, it didn't appear that the two made contact at the party."
I know one thing is for sure: If I was dating someone and they walked past me without even acknowledging my existence, we definitely wouldn't be dating after that.
See ya.
The pair was first rumored to be a couple back in September of 2017, when they dined together in New York City, and since then, Jenner was seen attending his games regularly. She also celebrated her 22nd birthday with him.
E! reported that Jenner arrived at her birthday party with Griffin, and an inside source said that "they weren't overly affectionate, but they spent a lot of time talking closely and dancing."
So, it seemed like yep, these two were a thing, and it was actually a pretty cute matchup if I'm being honest.
Jenner might have even gave Griffin a shout-out in her interview with Vogue back in March. She said,
I like my private life ... I'm happy. He's very nice. I have someone being very nice to me.
For someone who stays quiet about her love life, that was all kinds of adorable.
But that was then, and this is now.
It was reported that since Griffin's trade, the two decided to take a step back from their relationship, perhaps because of the long distance. A source told People back in February,
They've definitely cooled off and are taking things at a slower pace, but not because of any particular drama ... He got traded and isn't local anymore, so they've grown apart a bit just because of distance. They're still involved.
Unfortunately, if the two really did act like they didn't know each other during a Coachella party, then my assessment is that they've pumped the brakes on their relationship permanently. (Unless they were acting like strangers for some weird role play situation, which is possible, but not probable.) Hate to be the bearer of bad news, but here I am.
Perhaps the lawsuit that Griffin is involved in with his ex, Brynn Cameron, has something to do with it as well. If you don't know the story, here's a brief synopsis: Cameron, the mother of Griffin's children, is claiming that he left her and their two children to be with Kendall Jenner, claiming that Griffin walked out on her, "cruelly embarrassing his family with his public fawning over Kendall Jenner." Neither Griffin nor Jenner have responded publicly to the lawsuit.
Eesh. That's a lot of drama, even for a Kardashian.
So, even though there's no real confirmation from Kendall Jenner or Blake Griffin, I think it's safe to say that these two might be calling it quits.
We barely knew them as a couple, and yet, I miss them already.