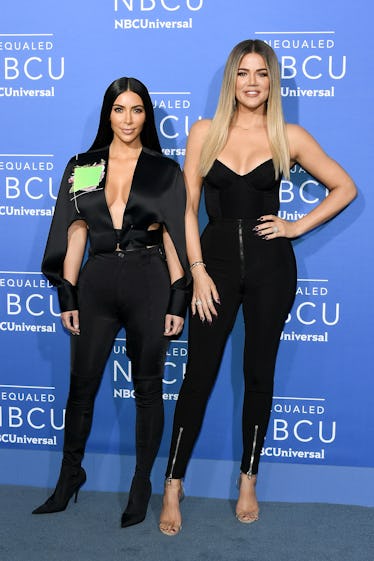 Kim Kardashian Just Broke Her Silence On Tristan Thompson Cheating On Khloé & OMG
Dia Dipasupil/Getty Images Entertainment/Getty Images
The Kardashian sisters are famous for always having each other's backs, which is why it's been kind of weird that the entire fam has stayed so quiet following the allegations that Khloé's baby daddy had cheated on her while she was pregnant. But Kim Kardashian just broke her silence on Tristan Thompson cheating on Khloé during a visit to The Ellen Show, and OMG you guys, it's so intense.
"Poor Khloé," Kim told the talk show host. "Like, I don't even know how to describe it besides it's so f*cked up. We really were rooting for Khloé and we still are. You know she's so strong and she's doing the best she can. It's a really sad situation all over."
Aw, Kim! It's so nice to see her share such a real and honest reaction. And not only that, but the supportive big sis has promised to keep things clean when talking about Thompson, because she has her new niece's best interest at heart. "I kind of made this rule with my brother, if there's a baby involved, I'm gonna keep it cute and keep it classy, and not talk too bad," she said. "I'm gonna try not to say anything too negative, because one day True is going to see this, and you know, it's so messed up."
It really is. And while my heart breaks at the idea of True eventually finding out about what went down between her parents, I love that Kim has decided to refrain from bashing Thompson and instead take the high road. That's some real, true sisterly love right there, and Khloé is so lucky to have such a great sib!
Khloé and Thompson welcomed True, their first child together, on April 12, just days after reports first surfaced that the Cleveland Cavaliers star had cheated. Elite Daily reached out to Kardashian and Thompson's teams for comment on the reports but did not hear back by the time of publication.
The Revenge Body star took to Instagram a few days later on April 16 to let fans know that she had nevertheless decided to give her baby girl Thompson's last name.
Meanwhile, we still don't really know what the status of Khloé's relationship with Thompson is, but things definitely are not looking good. According to Entertainment Tonight, it's been a difficult time for the new mama, who can't wait to get out of Ohio and return home to L.A., but is stuck there until doctors give her the thumbs up to fly. Elite Daily reached out to Kardashian's team for comment but did not hear back by the time of publication.
And while some outlets have reported that KoKo has already forgiven Tristan, a source reportedly told TMZ that the two aren't even speaking, and another told ET that Khloé and Tristan continuing as a couple is definitely not a sure thing. "Khloé is still upset over everything that came to light regarding Tristan, and is taking time to enjoy being a new mom before deciding the future of her relationship," the source said. Elite Daily reached out to Kardashian and Thompson's teams for comment on these reports, but did not hear back by the time of publication.
TBH, I'm still waiting for someone to just waltz in and magically make this whole story go away. Kris? Kanye? Malika? Seriously, though, it's all just so devastating, and I'm with Kim — I was really rooting for Khloé and wanted to see her finally get her happy ending. Instead, the new mama's entire world has been turned upside down by this nightmare situation that I still can't believe is actually real.
At least Khloé's got her cute little baby girl to focus on, and a super-tight family who will always have her back.
Whatever happens, I know you got this, girl!