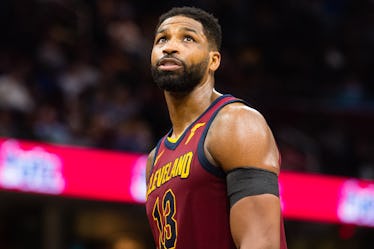 There's More Info About How Tristan Thompson Reportedly Cheated On Khloé & Yikes
Jason Miller/Getty Images Sport/Getty Images
The saga continues. We're all still devastated since news broke that Tristan Thompson reportedly cheated on Khloé Kardashian during her pregnancy, but there's more to the story. According to a new report from Us Weekly, Tristan Thompson cheated on Khloé Kardashian using Instagram. Elite Daily reached out to Tristan Thompson and Khloé Kardashian's teams for comment, but has not heard back by the time of publication.
On April 22, a source spoke to Us Weekly and revealed that Thompson reportedly cheated on Khloé Kardashian by direct messaging girls on Instagram and asking them to meet up with him.
"Tristan slides into girls' DMs," a source told Us Weekly. "He messages girls that way, on Instagram, and then meets up with them. He likes exotic or non-American-looking girls with big butts."
For those who've been living under a rock for the past few weeks, let me fill you in on the drama that's reportedly been happening within the Kardashian household.
On April 10, The Daily Mail released a video reportedly showing Thompson kissing another woman at a New York City club. Since The Daily Mail released this video, there's been a myriad of reports following Thomspon's activity. On April 10, TMZ released footage reportedly showing Thompson hanging out with three women at a hookah bar in Washington, D.C. Elite Daily reached out to Kardashian and Thompson's teams for comments on The Daily Mail and TMZ reports, but did not hear back by the time of publication.
I think I speak for the entire world when I say:
Although the reported situation with Thompson is apparently hard for Khloé, there's still a bittersweet element to this story — and that's their little girl, True. On April 12, TMZ reported that Khloé Kardashian had given birth to her and Thompson's little girl, True Thompson. Of course fans were thrilled for Khloé, but no one was more excited about the news than the new mom herself. To express her excitement, the she took to Instagram to share the news with social media. The new mom shared a photo of balloons, flowers, and lots of other pretty-in-pink goodies.
Prior to True's birth, it was looking like early April was going to be one of the worst weeks of Khloé's life. Once news broke that Thompson had reportedly been cheating, a source spoke to E! News about how devastated Khloé reportedly was.
The source said,
She cried hysterically all night. She begged to come back to L.A. and tried to find any way to make it work but her doctor wouldn't let her. She just wants to be with her family and leave as soon as possible. Kris is there and completely supporting her.
No matter how many times I hear this story, my heart still breaks every single time.
However, after True's birth, a source told People on April 12 that Khloé had reportedly "basically forgiven" Thompson because she was so filled with love after giving birth to her little girl.
The source said,
She's basically already forgiven him. She is in a bubble of love and peace and happiness right now, and everything that happened with Tristan is less about 'cheating' and more like, it was just a random drunken hookup that meant nothing and was kissing at most and didn't lead to anything else and was the fault of stupid groupies trying to trap him, and everybody just needs to move on.
Khloé, please. You deserve better than this.
Who knows what will come from this saga, but one thing is for sure: The next season of Keeping Up With The Kardashians is going to be lit.