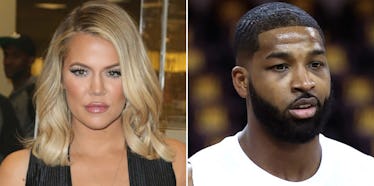 This Update On Khloé Kardashian & Tristan Thompson's Relationship Is Really, Really Bad
Frederick M. Brown/Ronald Martinez/Getty Images
Khloé Kardashian and Tristan's Thompson's relationship is one big question mark at this point. Some reports said she had forgiven him for reportedly cheating on her while she was pregnant with their daughter and was trying to focus on the baby, but this new update on Khloé Kardashian and Tristan Thompson's relationship says things are much worse between the two than they're letting on. TMZ reports that the only reason Kardashian is still in Thompson's house in Cleveland is because she hasn't been medically cleared to fly yet. (She'll likely have to wait a little longer to fly with True as well.) The second she can, however, she's reportedly taking True back with her to L.A. At this point, it looks like Kardashian and Thompson's relationship is pretty much over. Elite Daily reached out to Kardashian and Thompson's teams for comments on these reports, but did not hear back by the time of publication.
Kardashian confirmed the birth and revealed the name of her daughter, True Thompson, on Instagram on Monday, April 16. True was born on April 12. "Our little girl, True Thompson, has completely stolen our hearts and we are overwhelmed with LOVE," Kardashian's caption read. "Such a blessing to welcome this angel into the family! Mommy and Daddy loooooove you True!" Her post made it seem like things could possibly be OK between her and Thompson, but that's apparently just a front the pair is putting on.
Kardashian's family has reportedly been ensuring that they're never in a room alone together by having Kris Jenner stay there with Kardashian and the baby. Kim and Kourtney Kardashian and Kendall Jenner also arrived in Cleveland on April 16 for the second time since Khloé gave birth, so it looks like the Kardashian Kavalry has come in to help out Khloé and True.
Kardashian's birth announcement on Instagram didn't hint at any bad blood between her and the father of her child.
But a source reportedly told TMZ that this is far from the truth — Kardashian hasn't spoken to Thompson in days. They said, "Khloé has not spoken to Tristan for several days because she's still furious after finding out he repeatedly cheated on her, and embarrassed her in the process." This contradicts the narrative being told to many sources that Kardashian reportedly forgave Thompson.
The internet went into a frenzy on April 10 when The Daily Mail released a video that it claims shows Tristan Thompson kissing another woman at a club in New York City the weekend prior. TMZ subsequently released a video of Thompson with three unidentified women at a hookah bar in Washington D.C. from back in October 2017, as well as a video that showed Thompson walking into a hotel room with a woman the report claims is the same woman Thompson was with in the NYC nightclub. Elite Daily reached out to Kardashian and Thompson's teams for comments on The Daily Mail and TMZ reports, but did not hear back by the time of publication.
While Kardashian's birth announcement looks like an attempt to make everything seem fine, a source told E! News following the reports of Thompson's infidelity that Kardashian cried through the night when she found out. "Her entire world has been turned upside down," the source said, adding,
She cried hysterically all night. She begged to come back to L.A. and tried to find any way to make it work but her doctor wouldn't let her. She just wants to be with her family and leave as soon as possible. Kris is there and completely supporting her.
On the other side of the spectrum, a source later told People that Kardashian had forgiven Thompson because she was filled with so much love following the birth of True. The source said,
She's basically already forgiven him ... She is in a bubble of love and peace and happiness right now, and everything that happened with Tristan is less about 'cheating' and more like, it was just a random drunken hookup that meant nothing and was kissing at most and didn't lead to anything else and was the fault of stupid groupies trying to trap him, and everybody just needs to move on.
Now it seems like all of that was just a front. Brace yourselves, Kardashian and Thompson breakup news might be coming soon.