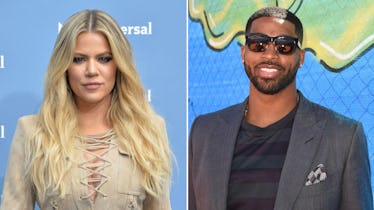 Khloé Kardashian Has Reportedly Already Forgiven Tristan Thompson & I'm Shook
Slaven Vlasic/Kevin Winter/Getty Images Entertainment/Getty Images
I'm on a rollercoaster of emotions right now, and it looks like it's not going to slow down any time soon. The highs: Khloé Kardashian had a baby! And she was surrounded by friends and family. The lows: Tristan Thompson reportedly cheated on her while pregnant, and possibly not just once. So yeah, it's safe to say that I'm feeling a few things right now. But nothing is making me more stunned than a new report that says Khloé Kardashian has forgiven Tristan Thompson already. Yes, you read that correctly.
Thompson was seen reportedly kissing an unnamed woman in New York City on Saturday, April 7, just days before Khloé gave birth. The Daily Mail claims that video footage shows the two getting up close and personal, though Thompson's hoodie blocked the cameras view from seeing the whole thing unfold. After this video was released, TMZ claimed to have obtained surveillance footage of Thompson reportedly hanging out with three women at a hookah lounge back in October of 2017, when Kardashian was three months pregnant. In the video, you see what appears to be Thompson kissing one woman, and provocatively touching another's chest. Elite Daily reached out to Kardashian and Thompson's teams regarding both The Daily Mail and TMZ's report but did not hear back by the time of publication.
So now, just days after all of these reports about Thompson are coming out, Kardashian is apparently over the entire scandal and is just focused on her overwhelming happiness with her daughter and that "absolutely nothing else matters." According to People, a Kardashian family source says:
Khloé is feeling nothing but happiness right now. She is head over heels in love with her little girl—she is just consumed with love. Absolutely nothing else matters ... She's so incredibly happy that her baby is here, that she is big and strong and healthy and beautiful, and so right now Khloé truly has no other cares in the world. She isn't even mad at Tristan right now.
Hold up. What? She's not even slightly mad at the fact that her daughter's father was reportedly caught with other women on multiple occasions, all while she was pregnant?
The source continued, saying,
She's basically already forgiven him ... She is in a bubble of love and peace and happiness right now, and everything that happened with Tristan is less about 'cheating' and more like, it was just a random drunken hookup that meant nothing and was kissing at most and didn't lead to anything else and was the fault of stupid groupies trying to trap him, and everybody just needs to move on.
Kardashian has been incredibly candid about her love and appreciation for Thompson in the past, so perhaps it's because she has such a love for him that she's willing to forgive (a very foreign idea to me). On her app, she told fans how she knew Tristan Thompson was "The One." She wrote,
My answer for this probably doesn't apply to everybody, but I knew Tristan was the one very quickly—I have never felt so comfortable or so safe with someone. Because of that, I took it very slowly and was cautious about how I went about 'us.' I made sure we had very in-depth conversations. I wanted to make sure that those conversations were backed up by actions.
She added,
Tristan was so forthcoming with his life, as I was with mine. It was really reassuring to feel that someone had the same belief systems as I did. We spoke about religion, children and our families. I think all of those things are important to truly know the ins and outs of someone. It's really easy to fall in love with someone during a honeymoon phase when you haven't yet discussed the logistics of life. But you have to talk about the real things if you want a real/long-lasting relationship.
Look, it's up to Kardashian to figure out how to navigate this situation, and if she wants to forgive her man for her family's sake, then that's her prerogative.