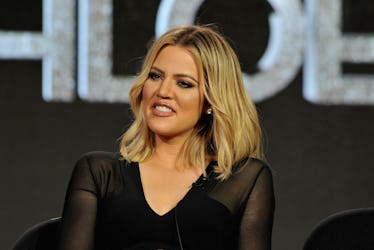 Khloé Kardashian's Baby Is Here & The World Is So Happy For Her
Jerod Harris/Getty Images Entertainment/Getty Images
Khloé Kardashian is a mom! The 33-year-old reality star and business mogul gave birth to her first child, a baby girl, on Thursday, April 12, according to TMZ. Yup, Khloé Kardashian's baby is here. The two parents couldn't look happier now that their daughter has arrived. And this celebrity writer couldn't be happier that the Kardashian/Jenner baby news media storm of 2017/2018 is finally over. It's been a long ride, friends, but it's been a real one.
Khloé Kardashian never revealed her official due date during her pregnancy, but at the beginning of March, we knew Kardashian was eight months along because, well, she said so herself. Khloé, Kim, and Kourtney Kardashian went on a girls trip to Japan when she was eight months pregnant and lots of people online thought it was irresponsible of her to travel abroad so close to her due date. But as long as she got the OK from her doctor ahead of time, homegirl could do whatever she wanted! Kardashian also tweeted on Feb. 28 that a lot of people were saying she cradled her baby bump too much, which is a really backwards thing to criticize someone for. She said in the February tweet,
People are very opinionated about my bump. I choose to cradle my bump because it's MINE. I've waited for this VERY short moment for YEARS. I have only months to enjoy this phase in my life, so I will touch my bump and love my bump as often as I choose. Mommy loves you baby!
Kardashian's pregnancy had been rumored for a long time before she confirmed it on Dec. 20, 2017.
She posted a black-and-white photo of her bump on Instagram with a caption that read,
My greatest dream realized! We are having a baby! I had been waiting and wondering but God had a plan all along. He knew what He was doing. I simply had to trust in Him and be patient. I still at times can't believe that our love created life! Tristan, thank you for loving me the way that you do! Thank you for treating me like a Queen! Thank you for making me feel beautiful at all stages! Tristan, most of all, Thank you for making me a MOMMY!!! You have made this experience even more magical than I could have envisioned! I will never forget how wonderful you've been to me during this time! Thank you for making me so happy my love! Thank you to everyone for the love and positive vibes! I know we've been keeping this quite but we wanted to enjoy this between our family and close friends as long as we could privately. To enjoy our first precious moments just us Thank you all for understanding. I am so thankful, excited, nervous, eager, overjoyed and scared all in one! But it's the best bundle of feelings I've ever felt in my life!
Kardashian's baby girl joins her big cousins North, Saint, Chicago, Mason, Penelope, Reign, Dream, and Stormi, aka the new Kardashian generation.
Khloé Kardashian welcomed her baby girl amid Tristan Thompson cheating allegations. According to The Daily Mail, Thompson was seen kissing a mystery woman. The woman who reportedly filmed Thompson with the mystery woman told The Daily Mail, "I was there and he was on the table right next to us with a group of friends and some girl who he was obviously making out with all night ... They were holding each other and it was so obvious. They were there when I got there and they were part of a big group of friends." Elite Daily reached out to Kardashian and Thompson's teams regarding the report but did not hear back by the time of publication.
Although this must be a hard time for Khloé, I think it's safe to say the world is very excited for her to finally be a mother!