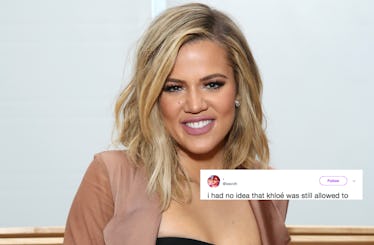 People Are Pissed At Khloé Kardashian For This One Thing She's Doing While Pregnant
Pregnant women are told that traveling during their pregnancies can be risky, especially traveling abroad. You're exposing yourself and your baby to a new slew of illnesses, among other risks, so doctors advise women not to travel during their third trimesters, but especially not after the 36-week mark. People are calling out eight-months pregnant Khloé Kardashian on social media for traveling with Kim and Kourtney Kardashian, and the tweets about Khloé Kardashian in Japan are pretty shame-y.
Khloé, Kim, and Kourtney Kardashian are currently in Japan for one last girls trip before Khloé gives birth and they're all officially mothers. They've been there all week, but fans are calling out Khloé for traveling during her third trimester. Some of the tweets started on Tuesday, Feb. 27, after Kardashian tweeted that she was experiencing jet lag (the worst). People are responding to Kardashian's tweet saying things like, "Why would you fly 17 hours over an ocean at 8 months???" "Woman I know you lead a busy life but you gotta slow down. I don't think you're even supposedly to be flying this far into pregnancy," and leaving comments on her Instagram such as, "Really? Are you flying 8 months pregnant?"
People aren't pleased with Kardashian over this Japan trip, but there are plenty of people coming to the mom-to-be's defense.
People are also calling out her travel plans on Instagram after she posted this selfie from Tokyo.
While it's true that doctors advise women not to travel during their third trimester, air travel is still perfectly safe for women who haven't reached the 36-week mark yet. The American Congress of Obstetricians and Gynecologists states that traveling while pregnant is fine, but airlines do have different restrictions depending on how far along the woman is. The site says of traveling while pregnant,
Occasional air travel during pregnancy is generally safe. Recent cohort studies suggest no increase in adverse pregnancy outcomes for occasional air travelers (1, 2). Most commercial airlines allow pregnant women to fly up to 36 weeks of gestation. Some restrict pregnant women from international flights earlier in gestation and some require documentation of gestational age. For specific airline requirements, women should check with the individual carrier.
Kardashian hasn't revealed her exact due date, but she has confirmed she's in her third trimester, which begins at the 28-week mark. As long as she's less than 36 weeks pregnant and her doctor said it was safe for her to travel, then she's absolutely allowed to take a girls trip to Japan with her sisters. And I doubt Khloé Kardashian would be one to cut corners when it comes to the health of her baby, so there's probably no way she didn't have the trip approved by her doctor first. The woman has always wanted to be a mother, let's not assume she's flippantly risking her baby's health and her own.
According to Us Weekly, Kim Kardashian is getting her own share of shame from Facebook users who think she should be at home with 6-week-old Chicago West instead of traveling.
One Facebook user, according to Us Weekly, said of Kim and Khloé, "A newborn and kids leaves the country for business!! And Khloe needs to quit whining about how her painful and difficult pregnancy. She looks fine in Japan!!" Look, people. Women are allowed to travel after they've had babies, and they're allowed to travel while pregnant. It's not like Kim Kardashian is spending months away from her newborn, and we know Khloé Kardashian wouldn't be one to put her and her baby's health at risk. They're not bad or irresponsible mothers for doing either of these things, so just give it a rest and let these women live.