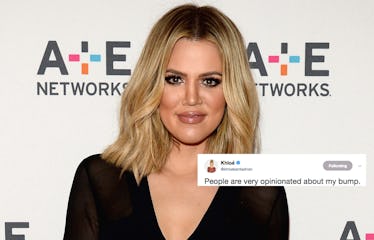 Khloé Kardashian Clapped Back At People Who Criticized Her Baby Bump
Khloé Kardashian is not here for people trying to tell her how to live her life while pregnant. The eight-months-pregnant star, according to a tweet she posted on Feb. 28, has been receiving criticism for frequently cradling her baby bump. (Of all the things to troll a person for...) The star responded to people making comments like this on Twitter, and Khloé Kardashian's clapback tweet about her baby bump shows this mama isn't messing around. It's not clear if Kardashian's tweet is in response to people on Twitter or somewhere else, like the comments section of her Instagram or responses to her Snapchat and Instagram stories. Wherever the shame was coming from, Kardashian shut it down real quick with her tweet. She tweeted,
People are very opinionated about my bump. I choose to cradle my bump because it's MINE. I've waited for this VERY short moment for YEARS. I have only months to enjoy this phase in my life, so I will touch my bump and love my bump as often as I choose. Mommy loves you baby!
She also posted a straight-up glamorous photo of herself cradling her bump on Instagram on Feb. 28. The photo was seemingly taken while on her girls trip to Japan with Kim and Kourtney Kardashian.
She captioned the post, "What's meant to be will find its way." She's wearing a silver, glittery dress with a black coat in the picture. It's similar in style to the dress she wore on New Year's Eve and it's fab.
The mom-to-be got a lot of positive responses to her tweet about cradling her baby bump.
Khloé, Kim, and Kourtney Kardashian are currently in Japan as a last girls trip before Khloé gives birth to her first child (reportedly in March). The American Congress of Obstetricians and Gynecologists states that many airlines advise against pregnant women traveling after the 36-week point in their pregnancies. We know Kardashian is in her third trimester, but it's not known how many weeks along she is. But as long as she got the OK from her doctor to travel, which I'm sure she did, then it's perfectly safe for her to travel. A source told People that Kardashian was excited to spend time with her sisters before her baby is born. "[Khloé] was excited about the trip," the source said. "It was her choice to go. She wanted a last, fun trip with her sisters before the baby arrives."
People were shaming her for it nonetheless, as well as shaming Kim Kardashian for going on a vacation when she has a 6-week-old baby at home. But these women are more than allowed to go on this trip and it'd be off base to assume they didn't plan it carefully with their kids in mind. Live and let live, people.
Kardashian confirmed her pregnancy on Dec. 20 in a moving Instagram post that featured her and Tristan Thompson cradling her bump.
In case anyone doubted how excited Kardashian is to be expecting her first child, the caption of her pregnancy announcement Instagram post should clear things up. She said,
My greatest dream realized! We are having a baby! I had been waiting and wondering but God had a plan all along. He knew what He was doing. I simply had to trust in Him and be patient. I still at times can't believe that our love created life! Tristan, thank you for loving me the way that you do! Thank you for treating me like a Queen! Thank you for making me feel beautiful at all stages! Tristan, most of all, Thank you for making me a MOMMY!!! You have made this experience even more magical than I could have envisioned! I will never forget how wonderful you've been to me during this time! Thank you for making me so happy my love! Thank you to everyone for the love and positive vibes! I know we've been keeping this quite but we wanted to enjoy this between our family and close friends as long as we could privately. To enjoy our first precious moments just us Thank you all for understanding. I am so thankful, excited, nervous, eager, overjoyed and scared all in one! But it's the best bundle of feelings I've ever felt in my life!
Safe to say she's a proud and excited mama.