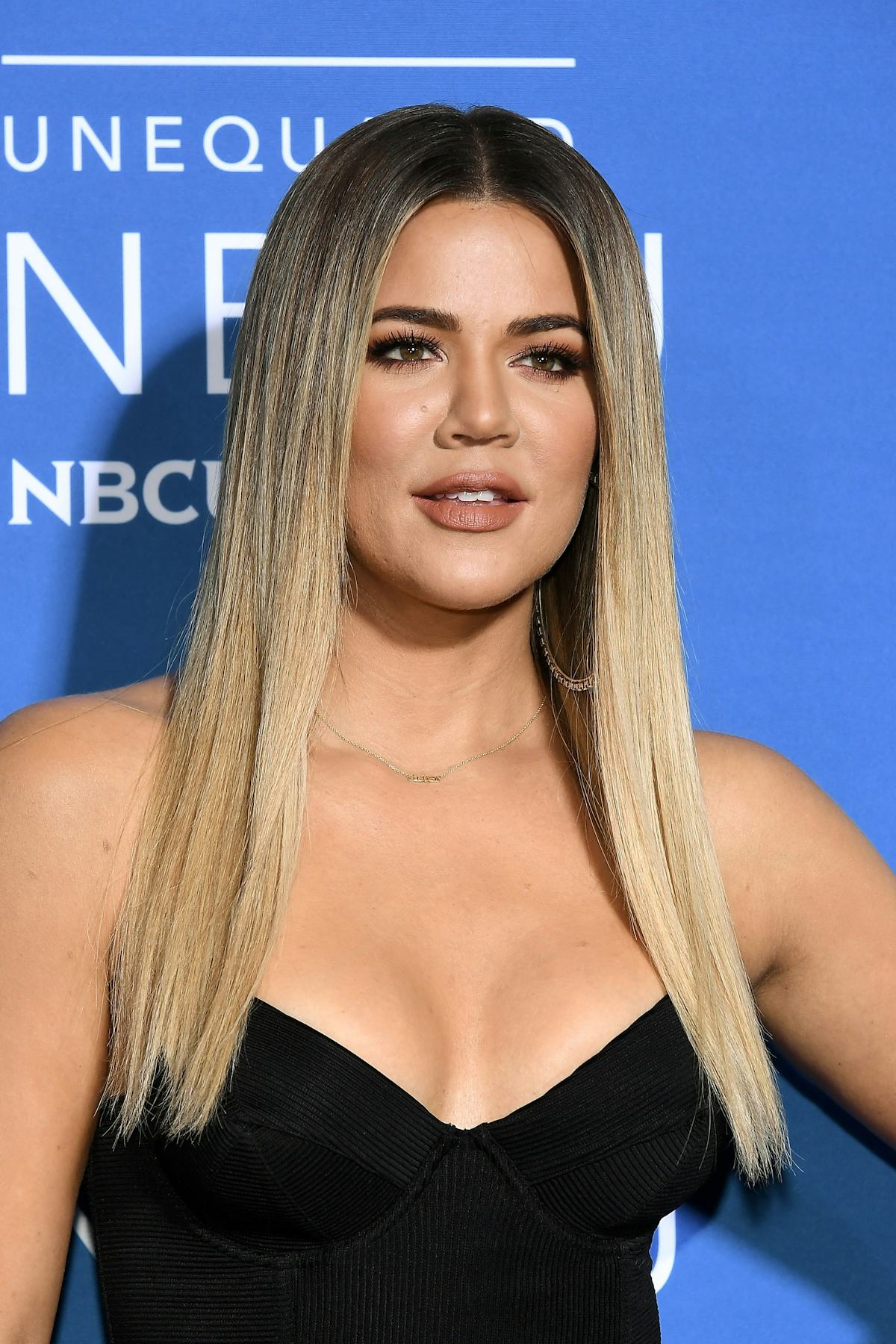 Tristan Thompson Told Khloé Kardashian The Sweetest Thing On NYE & It's Couple Goals
Dia Dipasupil/Getty Images Entertainment/Getty Images
On Dec. 20, the world collectively lost its damn mind when Khloé Kardashian finally confirmed her pregnancy. First off, finally. Second, FINALLY! When she revealed her iconic Instagram photo, showing off her gorgeous baby bump with a special guest appearance from Tristan Thompson's hands, we couldn't ask for anything more from the adorable couple. Except they gave us more, because the two of them are clearly perfection and want us to be happy, and for that, we are eternally grateful. We got even more proof that they're the ultimate #couplegoals when a New Year's Eve video from the couple shows proof that Tristan Thompson thinks Khloé Kardashian looks amazing pregnant, and like, what more could you even ask for?
2018 has barely begun and already it is complete.
I thought life was perfect when, during Christmas, our girl Khloé gifted us with an adorable post on Instagram. She said,
Merry Christmas!! May you sparkle and shine this festive season, may all of your wishes and dreams come true. I pray that we all may feel this happiness all year round. God bless you!
Could she be any more pure?
The answer is yes, because the photo she posted along with it shows that she is clearly an angel sent from above:
Khloé, we are not worthy.
So just when you thought that life couldn't get more amazing, we were given a gem of a video showing Tristan Thompson's clear adoration for his baby mama.
TMZ posted a video showing Thompson and Kardashian in a swanky limo on New Year's Eve, and Thompson taking a cellphone vid of him and Khloé. Khloé looks absolutely slammin' and TBH, Tristan looks pretty cool himseld.
The commentary goes as follows: Tristan tells Khloé, "You look really f*cking good," to which Khloé responds, "You look really good," and doesn't this sound like the modern-day equivalent to "No, you hang up first"?
SO. ADORABLE.
Thompson continues, saying, "For six months, you're a fine six months baby," and honestly, he is so right.
I mean, look at this glowing goddess:
Don't mind me, just wishing I look this incredible when I'm pregnant.
I think we can all agree that we are just so, so happy that Khloé has finally confirmed her pregnancy, considering it felt like an eternity waiting for her to share the news, and when she did, it was the most beautiful thing. On her Instagram on Dec. 20, she said,
My greatest dream realized! We are having a baby! I had been waiting and wondering but God had a plan all along. He knew what He was doing. I simply had to trust in Him and be patient. I still at times can't believe that our love created life! Tristan, thank you for loving me the way that you do! Thank you for treating me like a Queen! Thank you for making me feel beautiful at all stages! Tristan, most of all, Thank you for making me a MOMMY!!! You have made this experience even more magical than I could have envisioned! I will never forget how wonderful you've been to me during this time! Thank you for making me so happy my love!
She continued, saying,
Thank you to everyone for the love and positive vibes! I know we've been keeping this quiet but we wanted to enjoy this between our family and close friends as long as we could privately. To enjoy our first precious moments just us ❤️ Thank you all for understanding. I am so thankful, excited, nervous, eager, overjoyed and scared all in one! But it's the best bundle of feelings I've ever felt in my life!
I'm not crying, you're crying.
Fans agreed that this was indeed a momentous occasion:
So thank you, Khloé and Tristan, for making our New Year's shine so very, very bright.